I'll dive right in by saying that so far this is the best movie I've seen this year. Now I know 2008 is far from over, but I have a feeling that by the end of this year Son of Rambow will still be in my Top 10.
Set in the early 1980's in England, Will Proudfoot is part of the Brethren religion and has been kept away from watching movies, listening to music and making friends with outsiders. After seeing a bootleg version of Rambo (First Blood) at school terror Lee Carter's house though, Will is completely blown away and Lee gets him involved into making a sort of sweded version of the movie. Add a busload of French exchange students, a flying dog and an evil scarecrow and you have a pretty damn amazing film.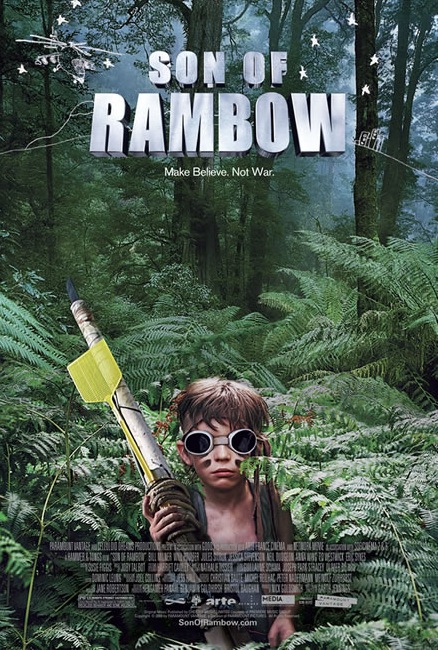 Son of Rambow is the movie I was hoping Be Kind, Rewind would be (yeah, I didn't like BKR, if enough people want, I'll write a review). The sweding is great, but there is more to the movie than only those parts. The story is so sweet and there are a couple of brilliant moving scenes. It's also full of funny moments; I was giggling throughout the entire film.
Will and Lee are superbly portrayed by newbies Bill Miller and Will Poulter. I was surprised to see that both of them haven't been in that many other films (Poulter in none actually), but I'm guessing that after this films is released that's going to change. I also loved Will's innocence. Especially at the start of the movie there are things that he's doing that at first glance you just don't understand. Then when you find out, you just can't help but find it cute.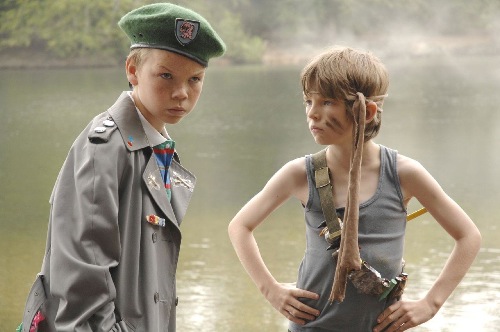 I also have to give a special mention to the visual effects and sound effects. There aren't that many (it's not that type of movie), but when they are used it works so well. For instance, at the start of the movie a group of kids run by, but from the sound of it they seem more like a giant stampede. Then next to that Will's daydreaming is brought to life in a very unique type of way (I won't explain how otherwise I'll ruin it).
This is a definite must-see cinema movie. In contrary to most other movies, Son of Rambow is worth every penny and you'll come out of the cinema with a smile on your face. By the way, stay seated till after the credits. There's a little extra you won't want to miss.
[rating: 4.5/5]