You may have noticed I've been using a new avatar here on my blog and on Twitter. During our trip to Dorset, Cristiano made a couple of cool photos of me and I had been thinking for a while to change the avatar I use everywhere. The old one was taken 2 years ago in Italy, so it really felt like time to update it. 
I liked the colours in this one, but after trying it out in a smaller size, it just didn't pop out as much as I wanted (plus the hairs in front of my eyes look weird in small):
I really loved this sepia photo of me, but after cropping it and rescaling it, it just didn't seem to work as an avatar:
Then Cristiano suggested changing the colours; instead of sepia, there's now a slight overlay of the Miss Geeky red over it. I think it fits pretty good in this site: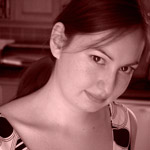 What do you think?