I've been eyeing Knomo's bags for a while now, and they have some gorgeous designs. I was lucky enough to try out two of their 13″ bags/sleeves: the Lima Max and the Slim. Next week you can expect my review about the Lima Max, today's one is about the Slim.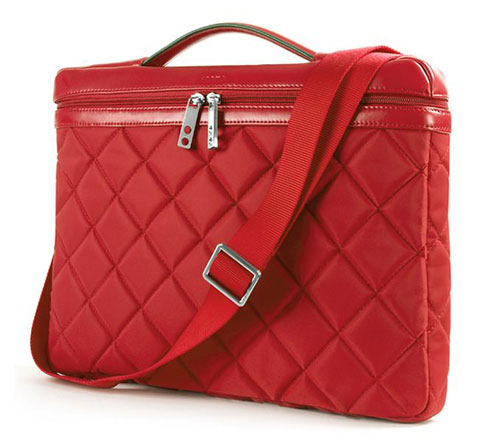 I got to try out a beautiful red 13″ Slim. Knomo sells these as a sleeve, but I find it's somewhere between a simple sleeve and full blown laptop bag. There's one huge compartment for your laptop, but at the back of the sleeve there's an exterior pouch, perfect for your power cable, screen adapter and whatever other small laptop accessories you carry with you.
The top part of the sleeve is leather, while the rest is quilted nylon. I love the quilted design; it looks great, but it also makes sure that your laptop is sufficiently padded and protected. And it's light!
The Slim has a retractable padded handle that fits nicely in your hand and you can carry it around as a simple handbag (like in the picture above). What I loved though is that it also comes with a detachable shoulder strap that you can easily clip on and use the sleeve as a shoulder/cross-body bag.
The one thing I didn't like was the zipper; it's a bit tricky to navigate the zippers around the corners, making it a bit of a hassle to take your laptop out. I'm guessing if you use the bag regularly though you'll get used to it.
For me this is the perfect 'extra' bag. If you already have a pretty handbag which you use daily, but doesn't fit your laptop, the Slim would make a great companion. I used it this way last week, and while it felt a bit silly having 2 bags with me, at least I knew my laptop was nicely protected in its own bag. As a sleeve it's a bit bulkier than most, and not the type of thing you'd put in another bag (which I normally do with my other thinner sleeve).
The Knomo Slim is available in 4 sizes (10″, 13″, 15″ and 17″) and seven colours (Black, Brown, Blue, Indigo, Red, Dusty Pink and Silver), although not all colours are available for all sizes. At £50 for the 13″ it's on the pricey side for sleeves, but as a simple bag it's actually a good deal.