Yesterday was my 4 year blog birthday! I somehow always manage to forget that, but every year I want to do something to make it a little special. Technically it's not MissGeeky.com's birthday, but it's the day I started blogging (and all the posts from that original blogged were moved to MissGeeky when I started that). Plus it's my actual birthday next week Tuesday, and my cats' birthday on Sunday, so it's pretty much a special birthday week for me anyway.
To celebrate this birthday week, I'll be doing a couple of giveaways! The first is your chance to win Feed by Mira Grant. This was my favourite book from last year, so I think whoever wins this will enjoy it: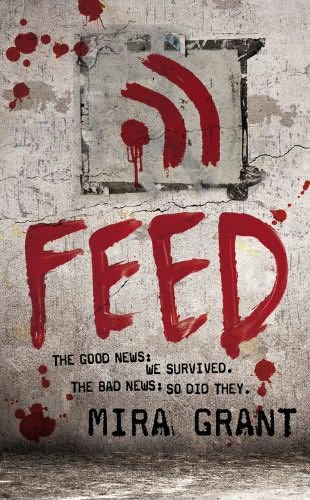 All you have to do to enter is to leave a comment behind here with your favourite book. The giveaway ends on Monday the 28th 17:00, and I'll randomly draw a winner then. This is open to anyone, so even if you're based in the US, Australia or wherever feel free to enter!
Thanks to all my regular readers and commenters for sticking with me for 4 years! I can't believe I've been writing here for so long, and it's been amazing. I never expected my blog to lead to so many awesome experiences. On to the next 4 years!