When it comes to books, I'm much more into fantasy than into scifi (or should I say syfy now?). Still I was glad to win this book, Agent To The Stars, from the Fantasy and Scifi Lovin' Blog. 
Agent To The Stars has a bit of a history. It was the first "book" written by John Scalzi in 1997 to prove to himself that he could write a novel. No publisher wanted to pick it up though, so in 1999 he released it online as a shareware novel; if people liked it, they could pay, but didn't have to. Once his second novel got published, a limited run of 1000 copies of Agent To The Stars was released in 2005 and surprisingly to the publishers they got snapped up in no time. A year later Agent To The Stars finally got published the "proper" way.
The premise of Agent To The Stars is simple: Tom Stein is one of Hollywood's upcoming young agents. He's got a major movie star, Michelle Beck, as his main client and has just completed a multi-million deal for her. But then his boss introduces Tom to his new clients: the Yherajk, an alien race with an image problem. They're big blobs of slime who communicate through horrible smells… and they want to be Earth's new friend. Now Tom has to solve the problem of how to introduce these new "friends" to the rest of world, without causing panic and chaos.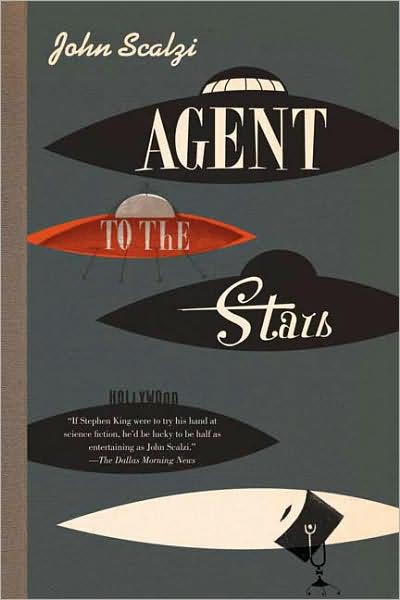 This has to be one of the funniest books I've read in a long, long time. There are so many "laugh out loud" moments in here; it was just so fun reading it. It's also one of those books that you don't want to put down. I didn't read it in one sitting, but every time I picked it up, I just flipped through the pages, and felt terrible when I had to stop and get on with some real work. 
I don't often say this about books, but I could definitely see a movie based on this. Compared to other books it also wouldn't require that much tweaking and cutting. The book is pretty short and a single movie could cover it all nicely.
Highly recommendable to everyone who wants a good laugh. And if you're not convinced yet? You don't have to buy the book; the entire story is also available on John Scalzi's website.
Agent To The Stars by Joe Scalzi is available on Amazon.co.uk for £6.29, on Amazon.com for $7.99 and on John Scalzi's website for free.