I should have blogged about this sooner, but I've been so busy lately. I got some great entries on my Find The Hidden Treasure contest last week, that I had to share a couple of them with you.
Zain:
Hidden Gem: Ambala Sweet store. Something about syrupy sweets and a sunshine ky make a miserable me a little happy. Unfortunately, I'm nowhere near the sweet store and the weather is overcast.
my hidden gem: The Chocolate Society Shop on Elizabeth St. If you don't know about it, you'll never find it but they have the BEST chocolate cookies I've had in a long time and my favourite chocolate brownies. Their chocolates are fab too!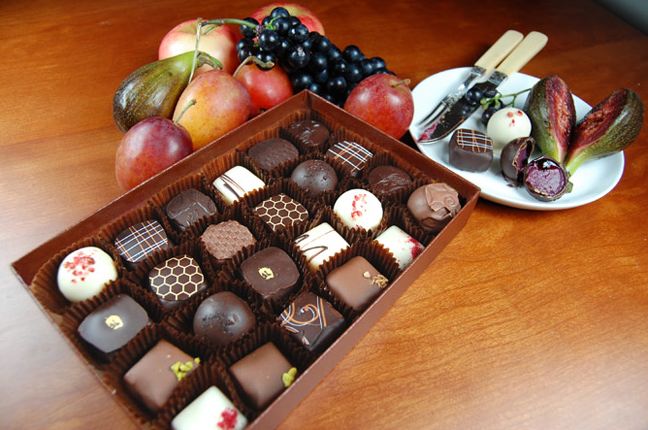 Genevieve Hassan:
My hidden gem in London: If you're a die-hard meat eater, you'll never have considered Food For Thought – a small basement vegetarian restaurant in Covent Garden. They serve the best dessert in the world – the "Strawberry Scrunch" – a crunchy biscuit base with fresh cream, bananas and strawberries, plus they give you a HUGE portion! I challenge anyone to find a better dessert.
My Hidden Gem:
If I told you then it would no longer be hidden! Oh well, there are lot's so I'm sure I can reveal one of my favourite to you 🙂 But which one…
Hush. Yes, that's the name of the restaurant. Why (the name that is)? Because it's hidden away in a small courtyard at the end of South Molton Street so innocuously that you would never, ever find it, unless you knew it was there. No signposts or glaring neon signs point the way, and that's jut the way they like it. You know a restaurant (and upstairs bar) must be good when its bursting at the seams even though it receives no footfall traffic.
The cuisine is modern british with a hint of french influence. My favourite dish being the "Gratin of Macaroni Cheese with (or without) Bacon" as a started. Enough to share, but so good you'll regret that decision.
Oh, and did I mention that they have a wine list to die for!
My Hidden Gem in London has to be The Orc's Nest (6 Earlham Street, WC2H 9RY).  It's a treasure trove for anyone who's into games – board, role-playing, cards or otherwise.  Packed full of the essentials to get you started, plus extension packs and ephemera.  And despite the bold yellow and black metal frontage and stunning Orc's head logo, it's surprising how many people walk past without ever noticing it's there.
The winner of the contest was Judith Lewis with her chocolate store gem (I've got to visit that shop sometime!), but she couldn't make it to the event. So the runner-up Emma Persky joined me last Thursday to the Joy Store to do some treasure hunting.
The event was pretty interesting. There were cupcakes and champagne for all the blog writers plus winners, and we got to see a shiny new Ford Ka (I loved the colour! It was almost Miss Geeky red, but slightly nudging a bit more to the pink side). We all had to find 1 Ford Ka miniature in the store, which we could exchange for £60 worth of Joy Store vouchers. Sweet!
Finding the miniatures wasn't hard at all, so we got to spend 2 hours trying on clothes and picking out what we wanted for free. I ended up with a black zipper dress (still not completely sure about that dress though, the shoulders are a little bit too eighties) and a silver grey dress with gathered sections. I really liked the style of the Joy Store, but almost all the clothes I tried on didn't fit me. Guess I have a slightly different body type (wide hips, small shoulders and waist) than what they design for.
Still, I had a great time (who wouldn't with free champagne, free cupcakes and free dresses!). For the rest of September, every Friday every Joy Store in the UK will have miniature Ford Ka's hidden in their store. If you find one, you can get a £10 voucher, and some of them will even be for a £100 voucher!