Having learned a lesson about thwarting the gods, Imriel and royal heir Sidonie confess their affair, only to see the nation boil over in turmoil as a result. Many cannot forget the betrayals of Imriel's mother, who plunged their country into war. According to the Queen's decree, the only way the lovers can be together is if Imriel performs an act of faith: search the world for his infamous mother and bring her home to be executed for treason. But just as he and Sidonie prepare for another long separation, a dark, foerign force casts a shadow over Terre d'Ange. With their world suddenly turned upside down, alliances of the unlikeliest kind are made, and Imriel and Sidonie learn that the god Elua always puts hearts together apurpose.
I loved the first Kushiel trilogy from Jacqueline Carey, and was hoping her second set could live up to those ones. I've been disappointed in the past by second generation stories (Sara Douglass, I'm looking at you), with the beloved characters you know and love not aging well at all. This Kushiel trilogy is focused on Phedre's adopted son Imriel, son of the traitor Melisande.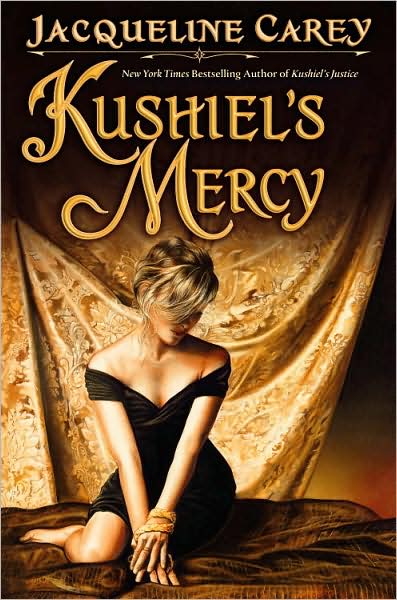 After reading the first two of this series (Kushiel's Scion and Kushiel's Justice), I knew I had another beloved set of books in my hands, with Imriel being a great and interesting character. But would the grand finale ever live up to it's predecessor's finale? One word: YES. I think I might like this series more than the first one to be honest. While I adored those books, here the focus is much more on the love story between Imriel and Sidonie, which resonated much more with me.
The book starts out pretty predictable with Imriel and Sidonie officially declaring their love for one another to the queen. Of course, the only way for them to be together is for Imriel to bring his mother to justice. I so was expecting that that was the direction the book was going, but then it did a complete 360º and does something completely unexpected. I won't say anything more than that, cause I truly don't want to ruin the book for you. I love how Carey's mind works, and she's delivered a unique story unlike anything I've read.
The Kushiel books are among my all-time favourites, so of course I highly recommend them to anyone. I know there's already another sort of sequel set in the same world, but taking place 100 years later. Bring it on!
Kushiel's Mercy is the third book in the second Kushiel trilogy from Jacqueline Carey – £6.96 on Amazon.co.uk, $7.99 on Amazon.com, £6.95 on BookDepository.co.uk (free shipping!)