Last week when Siany at A Change of Dress blogged about a cute little skater dress from New Look, I just knew I had to go in to try it on. So on Friday I had a look at New Look's new Oxford Street store (where Borders used to be… bit depressing to see how different it now looks) and the dress fit perfectly!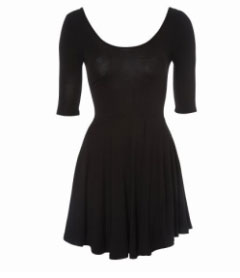 It's available in 5 different colours (black, alabaster, grey, peach and mint green) for only £16. I ended up getting the black one, mainly because that's the only one of the 5 colours I could actually find. But even then, I'm not really sure whether the other colours really suited me (especially not the peach or the green… alabaster maybe). I love how simple this dress is; it's not perfectly made (there are a couple of sewing faults near the waist), but it falls in a flowy fun way. It's a bit thin for winter, I think, but with spring coming up it's perfect!
Check out the New Look website for the full details.