I've always liked the idea of movies and comics telling different parts of the same story, but I can't think of many that have pulled it off properly (the one that comes to mind that didn't work was Southland Tales. That movie doesn't make sense at all, but apparently you have to have read the prequel comic before it…).
With Star Trek we first got the sort of prequel comic that explained the events before the movie (but still set in the future). It worked out great, giving a more detailed backstory for the fans who wanted to hear more about it, without it being a prerequisite for the movie. Now a new graphic novel is being released titled Star Trek: Nero following the character of Nero and his crew in the time between the destruction of the USS Kelvin and the reappearance of the Narada in the new timeline (so pretty early on in the movie).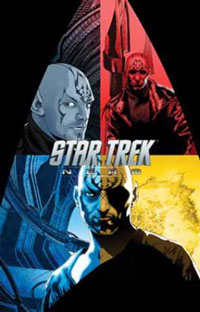 Thanks to the wonderful guys at Titan, I've gotten a couple of copies to give away to my dear readers! To enter fill in the form below with your details and answer the question "What is your favourite Star Trek show or movie?" (Don't forget to hit the Submit button!) Sorry to disappoint my international readers, but this competition is UK only. Entries must be in before Tuesday March 30th 16:00.
I've never really watched the original (never had the patience for it), but have seen most of everything else. My favourite was Deep Space 9, despite never watching it completely, cause the Dutch channel it was on messed up the programming (showing episodes in the wrong order, going on breaks and then starting up again without any announcements, causing me to miss episodes… and no internet to find out what I was missing). I always thought I'd watch it properly once I had the time, but still haven't got around to that. Birthday present idea for next year perhaps?