Yesterday I was fortunate enough to attend a special Doctor Who day in Sheffield, all about the upcoming downloadable games. The day was brilliant and I've got tons of stuff to blog about: a Q&A with the creators, playing around with real life Daleks, a studio tour of the game creators offices and a hands-on demo session of the first game. Oh, and I got to see the upcoming Saturday's episode… but I won't spoil anything about that, just go watch it this Saturday!
The first of the four new Doctor Who games was revealed to be called 'City of the Daleks', where for the first time the Doctor visits Kaalann, the Dalek city capital. This first episode will be available as a free download from www.bbc.co.uk/doctorwho on June 5th 2010 for both PC and Mac.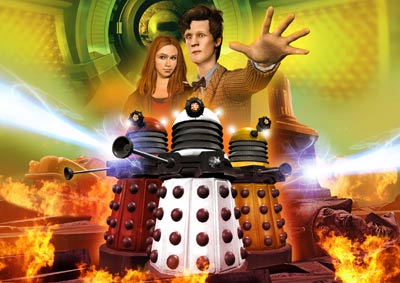 I'll be doing a more in-depth preview soon, but if you're curious to know what the 'City of the Daleks' game is about, here's a short description:
The TARDIS materializes in 1963 – and London is in ruins. The Daleks have seized control of time and the only chance of saving Earth lies in a desperate quest to Skaro, the Daleks' home planet – before time catches up with Amy, the last survivor of the human race!
From what I saw the game looked great; easily accessible for those who have never really played games before, but with some smart game mechanics in place to make it more difficult for those of us who have. I think these games will be great to tell more Doctor Who stories!
What do you think so far of the Doctor Who games? Something you're looking forward to? Or couldn't-care-less?