Shale is the lowest of the low-an outcast from a poor village in the heart of the desert. In the desert water is life, and currency, and Shale has none. But he has a secret. It's the one thing that keeps him alive and may save all the cities of the Quartern in the days to come. If it doesn't get him killed first…
Terelle is a slave fleeing a life as a courtesan. She finds shelter in the home of an elderly painter but as she learns the strange and powerful secrets of his art she fears she may have traded a life of servitude for something far more perilous…
The Stormlord is dying in his tower and there is no one, by accident or design, to take his place. He brings the rain from the distant seas to his people. Without a Stormlord, the cities of the Quartern will wither and die.
Their civilization is at the brink of disaster. If Shale and Terelle can find a way to save themselves, they may just save them all. Water is life and the wells are running dry…
I always love it when a fantasy book has some proper world building. Instead of going down the familiar route of alternative middle ages, I prefer it when fantasy series try something a little different. In The Last Stormlord it's all about water.
Water has become so rare that the entire community is built around it. There once was a time when people were dependent on random rain and they barely survived that era. Then the Stormlords came and water became regulated. The Stormlords would pull water from the clouds and shift them to the cities that needed it. Each city and each citizen receives an alloted amount of water, unless you live on the outskirts or in the slums and aren't a 'proper' citizen.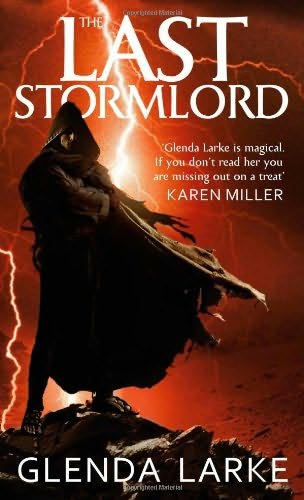 But at the start of this book we find out the current Stormlord is dying and there is no replacement. As the Stormlord grows weaker decisions have to be made: which cities get water and which get cut off? It's an interesting premise and Larke does a great job describing the class divide and the harsh choices the characters must make.
There are 3 different story lines at the start, which (of course) all merge at a certain point. The first is about those around the failing Stormlord: his son Nealrith, rainlord in his own right, but not strong enough to be a stormlord; and Ryka and Kaneth, two rainlords who are forced to marry to heighten their chances of a Stormlord offspring. The second is about Terelle, a girl sold to a 'snuggery' (read: whorehouse) but flees before she's forced into a life she doesn't want. And then there's Shale, a boy with water powers, enough to maybe be a Stormlord some day.
I really enjoyed this book, although it was a whole lot bleaker than I expected it to be. Larke raises some interesting moral dilemmas and makes you wonder what you'd do in that type of situation. I can't wait till the next book comes out! I so want to know how this story continues…
The Last Stormlord by Glenda Larke is available on Amazon.co.uk for £5.58 and on Amazon.com for $7.99