Hot and Steamy is such an awesome name for a steampunk romance anthology! I haven't read much steampunk yet (but I want to) and this looks like the perfect place to start.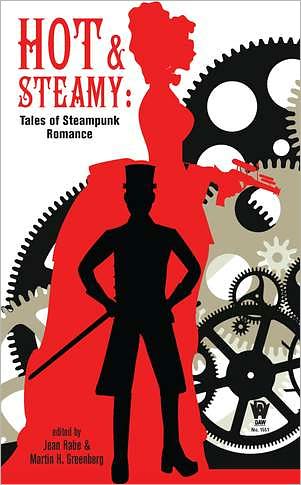 There are 16 stories in total, but I can't find descriptions online for any of them. Here are the titles though:
Chance Corrigan and the Queen of Hearts – Michael A. Stackpole
Absinthe-Minded Archaeologist – Vicki Johnson-Steger
The Problem of Trystan – Maurice Broaddus
Clockworks – Jody Lynn Nye
In the Belly of the Behemoth – Matt Forbeck
Automata Futura – Stephen D. Sullivan
Love Comes to Abyssal City – Tobias S. Buckell
For the Love of Byron – Mickey Zucker Reichert
For Queen and Country – Elizabeth A. Vaughan
Grasping at Shadows – C. J. Henderson
Go Forward with Courage – Dean Leggett
Her Faith is Fixt – Robert E. Vardeman.
Kinetic Dreams – C. A. Verstraete
For the Love of Copper – Marc Tassin
Cassandra's Kiss – Mary Louise Eklund
Dashed Hopes – Donald J. Bingle
Hot and Steamy is available on Amazon.co.uk for £4.90.