Today it's Time to Talk Day, a campaign to make people aware of mental health issues and to get people talking about them. I've dealt with a lot of anxiety in the past 15 years or so, but have to admit I've never talked to a professional about it or even really considered it a mental health "issue" I have. Looking back though I'm realising maybe I should have – maybe I could have made it easier for myself if I had. I guess part of me just thought that this is what being a grown-up means, that everyone experienced these things but I just wasn't good enough at coping with them. And that in itself is why I'm writing this – if it helps only one single person out there, that alone means this post was worth writing.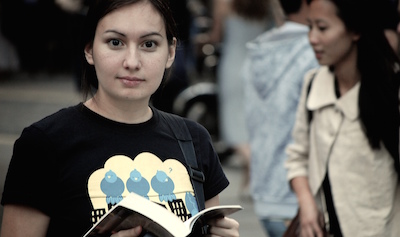 Being "perfect" and Imposter syndrome
I think my anxiety started in the final years of high school. Before those final 2 years, I thought school was pretty easy. I've got an awesome short term memory, so memorising stuff for exams wasn't very challenging, and I always considered myself in the top of the class. In those final years though, things changed – I still was getting high marks and performing well, but it took way more time and effort than it did before and I put a ton of pressure on myself to be that 'perfect' student again. I started feeling anxious and bad whenever I got a bad grade, leading to me putting even more pressure on myself, creating this continuous loop of pushing myself maybe a bit too hard.
And that only got worse when I went to university. I decided to study Computer Science without having programmed anything before in my life (well, except for my graphical calculator) and I was overwhelmed by the amount of stuff my peers already knew. Compared to them, I felt so inadequate – maybe I had made the wrong decision and I should have studied something else? Despite feeling like that, I kept pushing myself trying yet again to be that 'perfect' student even though I knew I could never be as good as my peers. And thanks to all my hard work, I did keep getting high marks for exams and assignments. I knew I wasn't bad, but somehow I felt like it was just luck, that one day someone would expose me for the fraud I actually was.
At its worse, it would come on as full-on episodes of anxiety – I'd be sitting in the computer lab with a ton of other students around me, reading through the latest practical assignment and just freeze, knowing I didn't know how to solve this problem. My chest would go all tight, my face and neck would go all red and splotchy, and the sound of my way-too-loud beating heart would drown out all the noise around me.
I now know that this is what is called Imposter Syndrome, but at the time I thought I was the only one feeling like this. Realizing that most people I know, even those who are way more experienced than I am, have dealt with imposter syndrome was a huge eye-opener to me. Hearing how I wasn't the only person that has this and talking to others about their own experiences has been the main thing that has helped me deal with this type of anxiety. Knowing that most of us are 'imposters' and just trying the best we can has taken away that feeling that I don't belong.
Throughout the years it's gotten a whole lot less, but I'll still have days where I don't feel good enough – that I'm not doing the best I can. I'll get stuck in loops of self doubt and blame for not having done more. It's not quite Imposter Syndrome, but it still is anxiety about how I assume I should be. Especially after a day that hasn't gone quite as I thought it would, I'll get easily stuck in thinking of all the other ways I could have done something, replaying events over and over in my head.
The Worst Case Scenario Thinker
Tied to that is that there's always this part of my brain that for any situation will try to come up with all possible outcomes – going down every path, be it good or bad. I'll imagine all the ways past conversations could have gone, or how future conversations might go and (from a code perspective) come up with most edge cases before it's needed. It's a great skill to have (especially for work and board games), but only when I can reign it in and actually turn it into something I can act on.
In the worst case scenario though my worst case scenario thinker will focus way too much on the negative, coming up with a ton of unlikely and bad scenarios, causing me to freeze up and get massive panic attacks based on 'what might happen'. I've had lots of sleepless nights where my mind has gone down the rabbit hole of doom and dread, conjuring up the worst things I can think of.
Nowadays it mainly happens to me when I'm doing stuff not part of my routine, like when I'm going on holiday. I'll get super anxious just thinking about all the things I'll forget to pack, how I'm going to miss my flights, how the airline will lose my luggage, how my flat will be burgled while I'm away, how the pet sitter will forget to feed my cats, how I'll get lost and not find my way back to my hotel, how my bag, passport and money will be stolen, how… etc etc. I know most of it is unlikely and won't happen, but it's so easy to get trapped in thinking of all the negative that 'could' occur.
Understanding, compartmentalising and reflecting
For me, there have been 3 things that have helped a lot with how I deal with anxiety. The first is understanding. Identifying when I'm having a panic attack and understanding why it's happening and what has triggered it, means I can try to stop my mind from going down the rabbit hole. I find the psychology of emotions fascinating (my master's thesis was on facial expression recognition), and being able to learn what our brains do when we experience anxiety has helped me a lot (I find a good place to start is Emotional Intelligence from Daniel Goleman).
The second thing is compartmentalising. I'll always have these parts of my brain that will pipe up at completely the wrong moments and I've accepted that they will always be there. I've realised though that I don't always have to listen to them at that moment: I'll acknowledge they're there, then mentally shove it in a box and put it aside to open up later. I'll never completely forget about that box though, and I will always get around to dealing with those thoughts and issues, but I'll do it at a time when it works for me (rather than say in the middle of the night when I'm trying to sleep).
The third is reflecting. I wrote an entire article about doing personal retrospectives for 12 Devs during Christmas, so won't go into too much detail here. Reflection for me is sitting down and taking the time just to think about all the things I've done and what I could have done differently. It's a time to open the box with all the thoughts I had and to go through them. The main thing is doing it when it feels right to me – when I feel I have the right type of mind to deal with the issues.
I know these are just the things that I do and I have no idea whether or not they will help anyone else, but it might help just hearing how other people deal with stuff. I also know my version of anxiety isn't as extreme as it can be for others, yet it will be more than what most people typically encounter. Anxiety is something that I know I need to deal with on a regular basis, and I know it will never fully go away for me. But talking about it, however hard and embarrassing and weird it might be, does help.