It's been ages since I did any (fictional) book reviews here, and I want to get back in the habit of sharing some of my thoughts of books I've recently read. Especially the ones that I absolutely love and think everyone should read! So for the next few weeks I'm going to try to do book reviews of three books each week. Let's see if I can catchup and share all my favourites!
Which books have you recently read that you love?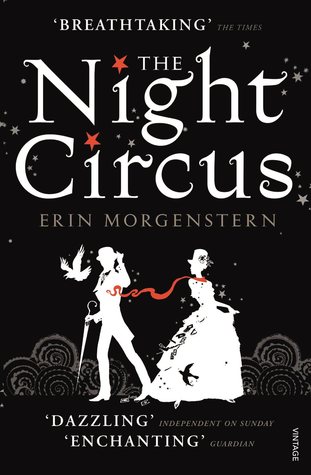 The Night Circus describes a place that feels plucked from my dreams, the circus I never knew I wanted to visit. Dressed in monochromatic hues, the Circque de Reves is depicted as a vast collection of tents, each with a different experience and the attraction, and it's the setting for a magical contest between our main characters Celia and Marco.
There's just something about the circus itself that feels part escape room and part immersive theatre, and I ended up wishing it was a real place that I could actually go to. I absolutely loved this book, mainly cause of the long descriptions of parts of the circus – the overall story and characters feel a little weak, but for me this book was more about creating this idea of an interesting world that I could explore.
Favourite quote: "You may tell a tale that takes up residence in someone's soul, becomes their blood and self and purpose. That tale will move them and drive them and who knows that they might do because of it, because of your words. That is your role, your gift."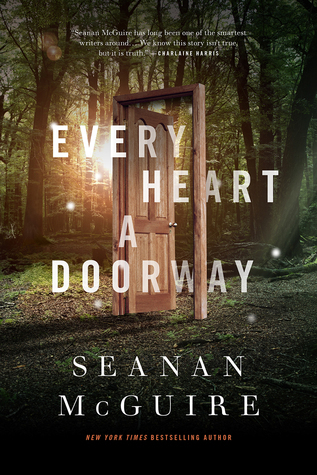 I'm a huge Seanan McGuire fan – she's written so many different story worlds and I just love the unique stories she comes up with. And Every Heart A Doorway is no exception. The simplest way to describe it that this is McGuire's take on parallel universe stories: Alice In Wonderland, The Wizard of Oz, what happens to the children after they come back from their adventures in these other worlds? In Every Heart A Doorway, we're introduced to Eleanor West's Home for Wayward Children, a boarding school for children/teens who need to re-adapt to our world.
There were just so many things I loved about this book. Firstly, the diversity of the characters: rather than having the predictable (and boring) cast of straight white characters, in here we have a range of diverse characters. Besides that each character has such a different and unique backstory – I loved discovering the different worlds they each had visited and where they felt they belonged. A lot of this book was about finding that special place where you feel accepted and appreciated for who you really are, and the loss that follows of not having that place anymore. It also made me wonder what my other world would look like – what's the world that I would escape to if I could?
Favourite quote: "For us, places we went were home. We didn't care if they were good or evil or neutral or what. We cared about the fact that for the first time, we didn't have to pretend to be something we weren't. We just got to be. That made all the difference in the world."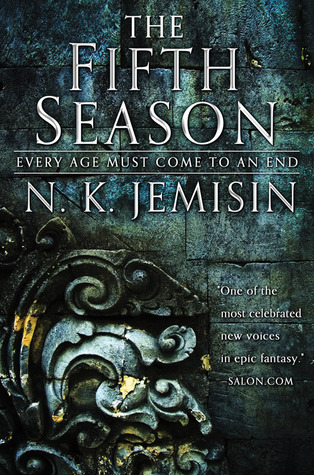 I don't really know how to describe Jemisin's The Fifth Season. It's ambitious and epic and it works. I loved Jemisin's first series (the Inheritance trilogy) and it's awesome to see another complex and interesting world from her.
In The Fifth Season we're introduced to the Stillness, a continent on a planet where every couple of centuries there is some form of cataclysmic event known as the Fifth Season. No one can predict when or what The Fifth Season will be, and the society of the Stillness has evolved to ensure the survival of as many people as possible.
There's so much that happens in this book and my meagre description above really doesn't do it justice. Jemisin manages to create real and messy characters – you don't always agree with their decisions, but she makes you can understand them, feel for them and want to shout at them. Wrapped around that is an epic story and Jemisin leaves just enough clues for you to think along and puzzle out parts of the story for yourself. All in all, I can't wait to read the next part of this series!
Favourite quote: This is what you must remember: the ending of one story is just the beginning of another. This has happened before, after all. People die. Old orders pass. New societies are born. When we way "the world has ended", it's usually a lie, because the planet is just fine.
But this is the way the world end.
This is the way the world ends.
This is the way the world ends.
For the last time.