I was sent a review copy of this book a couple of weeks ago (hmm, actually it might have been months ago, now I think about it), and I've only now finally had the chance to write my review about it. I had never came across Lenore before, but when hearing it was like an "unholy union between Tim Burton and Dr Seuss" I just knew I had to try it.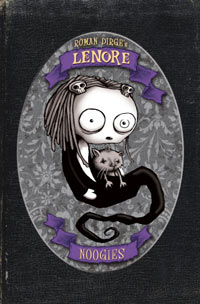 Lenore: Noogies is the first volume of Roman Dirge's Lenore the Cute Little Dead series. It's a collection of 1-3 page mini stories, starring Lenore, a 10 year old dead girl who lives in a mansion with her creepy friends. The stories are delightfully dark and twisted, with a weird dark humour. A part of me knows some of the jokes are just gruesome, but I can't help but find it funny.
Some of the comics are twists on known stories like children's songs, games, and nursery rhymes, turning them into something more macabre, like the Raven and the Crooked Man. Other stories just have unexpected dark endings, like Little Bunny Foo Foo. Here's an example: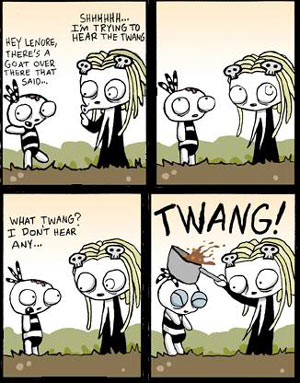 It's a great book for those of you that are dark and twisty. It's not everybody's type of humour, but if you liked the above example, this might be something for you.
Lenore: Noogies is available on Amazon.co.uk for £7.75.