I really enjoy the Hide&Seek and Sandpit games and when the Hide&Seek mailing list announced they were helping out with the first London Go Game, I knew I just had to try it out for myself. The Go Game is a running around/treasure hunt type of game with location based puzzles, undercover agents and creative missions. Typically they are set up as team building games for companies or conventions, but once in a while they do community games, inviting anyone along.
I formed a team with Rachel, Kevin and Tom, calling ourselves the Geeks of London (of course). We were later joined by two of the volunteers for Hide&Seek, who had helped with the registration. After taking a group photo, we got our first mission. The Go Game uses a simple website to give each team their missions, meaning at least one team member has to have a web-enabled phone with them. The great thing of this type of setup though is that the "game masters" can control all the teams behind the scenes and make sure no one is doing the same mission at the same time. Each team also got a digital camera from the organizers to take photos and videos for certain missions.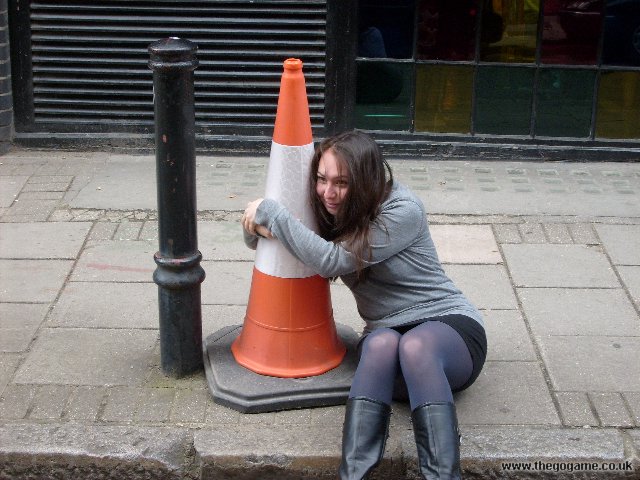 As I said before, there were 3 different types of missions: location-based puzzles, undercover agents, and creative missions. With the location-based puzzles you were told to go to a specific spot and find/solve a puzzle there. Most of them were pretty obvious once you got there. For instance, the first one we had to solve was go a certain intersection and find the building with two names: one in which you could swim and one what you did in a queue. Turned out to be Poole, Waite & co. ltd. We then had to stripe away woolpot and figure out what word you could make from the letters that were left (delicate).
We only got one undercover agent mission: located in a pub was a pirate. We had to go up to him and in Pirate speak we had to figure out in 20 questions what his favourite food was. It was loads of fun and I'm a bit disappointed we didn't get to meet any of the other agents. Apparently there were also a space age air hostess (with funky blue hair), an undercover spy and a psychic.
The creative missions got you the most amount of points and would be judged at the end of the game by all the teams. We did 3 different ones, but found out at the end we were only allowed to enter one. The missions we did were recreate an old video game (we made a Lemmings video), a glam/slam paparazzi photo (I posed as a glamour model with a pretty car for the first photo, and then played drunk hugging a street cone for the second, see above) and recreate a a movie with fingers (we did Indiana Jones). None of our wonderful creations were that great compared to what a lot of the other teams came up with. One team got the mission to "do something they had never done before" and they made a video of four of them naked in a telephone booth. Ehm, yeah, we weren't as committed to the cause as they were. Here's one of the videos another team made:
[Watch the video on MissGeeky]
After 2/3 hours (I really don't remember how long we were playing) all the teams met back at the pub and handed in their cameras. The videos and photos of the creative missions were then shown on screen and (through the website) each team had to vote for their favourites. In the end we finished 19th of the 20 teams. That was a bit disappointing, especially cause we kept getting updates saying we were in the lead. Despite that though it was a lot of fun and I'd definitely do it again.