This is going to be a short review, but I couldn't resist writing up something about before it disappears from London. I finally managed to go last Saturday and it's brilliant.
The title of this post says "theatre" review, but Grimm Tales is so much more than your typical theatre show. Their site describes it as "an immersive storytelling experience that will plunge adults and children alike into the subversive world of the Brothers Grimm". And that's pretty much spot-on.

Five fairytales are told over several floors of an old, creepy converted warehouse, with the audience moving from room to room with each story. I loved the set decoration and the costumes: it's the right balance of dark and twisty. Hallways filled with creepy portraits and paintings, stairwells filled with old wedding dresses, just walking through the venue gives you shivers.
I loved how the fairytales are told in actual fairy tale form. I ended up buying Philip Pullman's adaptation on which it is based and the dialogue is lifted straight from it. Since the rooms are quite small, you also actually get to see all the actors up close and it's awesome seeing their expressions from that distance.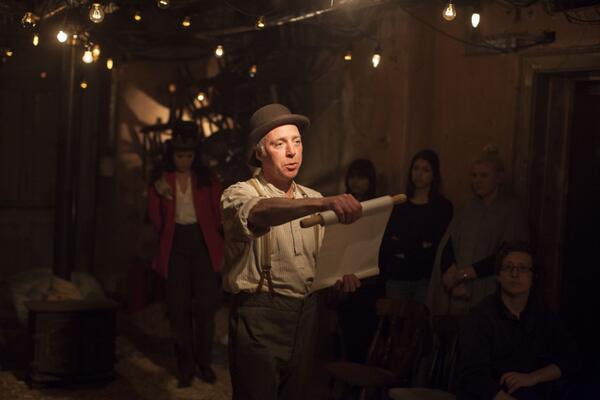 I was familiar with three of the five fairytales, but I have a feeling most people won't know most of them. I liked that they didn't pick the obvious ones though, and it really highlights how weird some fairytales can be.
If you're interested in going, hurry! Tickets are only available until April the 11th.