As you might have noticed from some of my recent tweets and blog posts, I've gotten slightly addicted to escape rooms… I love the idea and I'm working my way through the list of London rooms. Hopefully I'll be able to add another to my list if this Kickstarter campaign is successful: https://www.kickstarter.com/projects/enigmaescape/enigma-escape-the-live-escape-game-experience-in-l.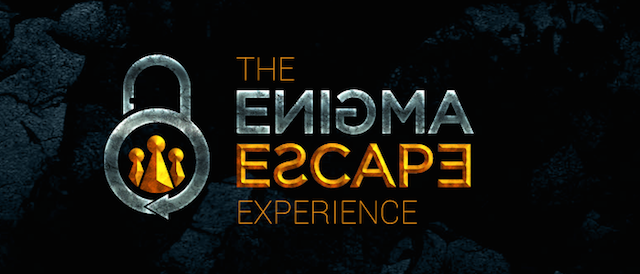 I really like the sound of what Enigma Escape have planned. Here's a snippet from their Kickstarter page:
Have you researched into your competitors? Yes. Most of the games we played were actually rather fun. However upon reflection, none of the games we played actually made any sense. They were really just puzzles hunts…find all the keys to open all the padlocks and you've escaped. Some games tried to integrate a story, but the story quickly became irrelevant and we were left with the same ol' puzzle hunt. Don't get us wrong, hunting for puzzles can be fun, but we feel that a live escape game can be so much more than this.

How are you different? We wanted to create games that are both fun to play and make a lot of sense. That's why our games will be entirely story-driven. We'll tell you a story of how your team became locked in, then whatever happens next is your story. All the puzzles that prevent you from your escape are natural, meaning that if you think logically, you'll reveal the solution. Designing the puzzles in this way allows us to create a sense of realism to your scenario. Even if you've played live escape games before, you'll definitely find our take on the game a real challenge. And what makes us the most different, is that we've created games that are immersive – see below:

Why are your games 'immersive'? We want to pay tribute to the origin of live escape games (the escape video game), so we've created an experience with video game like features to make you feel more 'immersed'. These include watching cinematic videos before and after the game to round up the story; background music to set the atmosphere; sound effects at key moments during the game; and other things that you'll just have to wait and see…
I've enjoyed the other rooms I've done so far, but I definitely agree that the story is just a backdrop and not really part of the experience. I love the sound of having appropriate background music and sound effects, plus having puzzles that feel part of the story just makes sense to me.
They've only got 48 hours left to go and have so far reached £4,628 of their £5,000 goal. They're almost there! There's a range of different rewards, most of them offering 2-5 player games when the room has opened. I backed the 5 player one, but I'm so tempted to do the [SPY] level: you get to watch how the staff room works while another team plays!