There are some great trailers over at FirstShowing.net, most of which haven't appeared on the Apple trailer site yet. Here's a quick look at the ones I find interesting:
Kung Fu Panda
It's been ages since I heard about this movie for the first time: a panda that does Kung Fu, how can that not be great! The trailer is kind of funny, but I have a feeling the best moments in that film won't be coming from Jack Black, but from all the other characters. I mean you get: Angelina Jolie as Master Tigress, Lucy Liu as Master Viper and Jackie Chan as Master Monkey!
Awake
I've read a couple of reviews about this movie and trust me when I say that this trailer does not give much away. If you're interested in the film, I would suggest though staying away from future trailers, knowing the track record Hollywood has with managing to spoil a film with their trailers. Oh yeah, it's got Hayden Christensen and Jessica Alblah in it.
The 10 Commandments
Now this trailer is on the Apple site already and I had actually seen it a couple of weeks ago. I really thought this was a trailer for a fake movie! It just looks sooooo bad, but has a lot of well known voices in it. Are all those actors (Ben Kingsley, Christian Slater, Elliott Gould, Alfred Molina) really that desperate?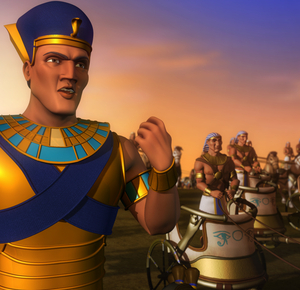 Repo! The Genetic Opera!
I'm a sucker for musicals, but I admit most are too cutesy and happy. This movie though just looks deliciously dark and creepy and they're singing! It just looks plain weird, mixing great musical singers (Sarah Brightman) with actors that can sing (Paul Sorvino, Anthony Head, yes it's Giles!) with pure trash (Paris Hilton). I don't know what to make of it, but I am very much intrigued.
Sweeney Todd: The Demon Barber of Fleet Street
The title above has a link to the first trailer, there's also a second. I love that they're trying to market this movie in different ways. The first trailer is more general, showing a bit of everything in the movie. The second is purely focusing on the horror aspects of the film and I heard a third trailer is coming soon focusing on the musical parts. It's looks dark and disturbing, but what would you expect of a Tim Burton movie with Johnny Depp and Helena Bonham Carter? I also love that they cast Alan Rickman and Sasha Baron Cohen.