I linked to this project about a week ago, but We Tell Stories is interesting enough to dedicate a complete post to it. The idea of We Tell Stories is to tell Six Stories by Six Authors in Six Weeks inspired by Six Classics, with each story using a unique presentation form. It's created by Six to Start in partnership with Penguin Books and at the end of the six weeks there will be a contest to win 1300 (!!) Penguin Classics.
The first story The 21 Steps came out two weeks ago and is written by Charles Cumming. It's inspired by The 39 Steps, but you haven't had to read that to understand this story. The story is told through Google Maps, showing the places the character goes to and giving the reader the ability to follow his journey.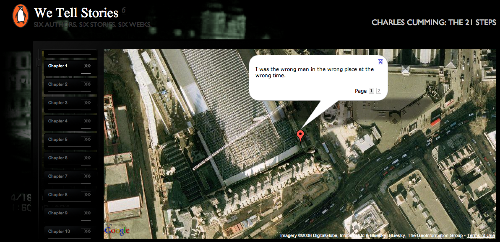 The second story came out this week and is called Slice. It's written by Toby Litt and is inspired by The Haunted Dolls' House. It's about a girl named Lisa, nicknamed Slice, who had moved to London with her parents to separate her from bad influences. Her story is told through her blog, her parents blog and their Twitter feeds (Slice and her parents).
The next four stories will each be coming out in the next four weeks and I'm curious to see what type of form these will be in. So far it's been interesting to see these different type of methods of storytelling and it gives the stories a whole other perspective.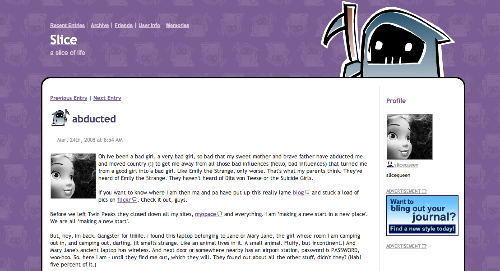 Besides the six features stories though, there is a cleverly hidden seventh story with more ARG elements, inspired (of course) by Alice in Wonderland. The first clue that there was a seventh story is through this blurb when you sign up for the Google Group:
Over six weeks, six authors will write six stories designed for the internet, from Booker-shortlisted Mohsin Hamid to prize-winning Naomi Alderman and bestselling thriller authors Nicci French.
The six authors featured on the We Tell Stories site are: Charles Cumming, Toby Litt, Kevin Brooks, Nicci French, Matt Mason and Mohsin Hamid. So what story was Naomi Alderman working on? It's also interesting to know that Alderman was the lead writer for Perplex City, a previous ARG the founders of Six to Start were involved in.
If you want to catch up on the seventh story, check out this forum. A lot has happened already, but I don't think it's too late to join all the fun. I know I'm going to try and figure it out! Let me know if you're playing too; it's always good to join forces.