I like my pretty gadgets to remain pretty. Preferably I'd stick them in a big plastic cocoon, where nothing nasty can happen to them, but that's not very feasible. I hate scratches and smudges on my laptop (and phone and camera and well, any gadget), so I want some way to protect them. But at the same time I want them to remain shiny and pretty.

I haven't tried these Gelaskins yet myself, but I've heard a lot of good things about them. It's a very thin protective cover for your gadget and it uses micro channels to allow for a bubble free adhesion. It also doesn't leave a residue behind once you want to remove it, so there's no damage to your precious gadgets.
So far they've got Gelaskins for a whole bunch of different gadgets: iPods, phones, laptops (Mac and PC), even Nintendo DS and PSP. Not every design is available for every gadget, but even then you've got a huge selection to choose from.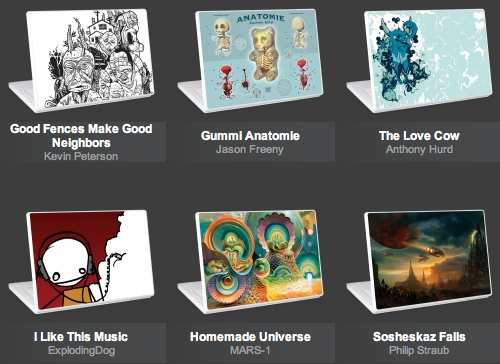 The only problem I have is with the shipping costs. If you order an iPod or phone skin (anything but a laptop skin), it's fine: depending where you are, the shipping is only between $4 and $6. If you want a laptop skin and you live in the US or Canada, you're also fine: shipping's only $7/8. But if you want a laptop skin and you live elsewhere, it's suddenly $20. Eek! That almost doubles the price and that's just a tad too much for something like this.
I'd like to get one of these for my laptop, but I'd have to order more than just the one for me. Anybody maybe interested in doing an order together?