I'm horrible with answering my mobile phone, all mainly because of one single reason: I don't have pockets (my coat does, but I hate carrying my phone in there). I tend to keep my phone in whatever bag I have with me that day, and half of the time I just don't hear it when it goes off. And those times I finally do, by the time I've found my phone the person has hung up already. Annoying, but what can I do about it?
Well, something like this: some time ago Sony Ericsson released a series of girly Bluetooth watches, that are compatible with their mobile phones. When you get a call or text on your phone, the watch will vibrate and show the incoming caller ID on it's display. You can reject or mute the call with the watch itself and even answer calls when paired with (Bluetooth) headphones. It can also be used as a music player control to play, pause, stop and change volume, with the phones that have that capability.
There are three designs: Sparkling Allure, Contemporary Elegance and Evening Classic.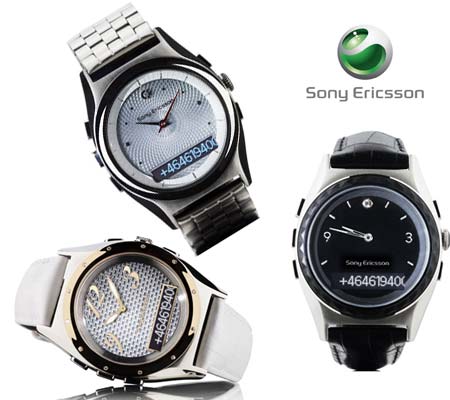 I really like the idea of these phones and for someone like me they'd be a perfect solution to not hearing my phone in my handbag. But I wonder though how comfortable these watches are; I've noticed a lot of "gadget" watches tend to be designed on the lumpy side and are extremely irritating to wear. The price tag is also not very appealing: at £195 (in the online Sony Ericsson store) they're not the cute little extra gadget anymore. A pity, cause I would have loved to try a watch like this.
Check out the online Sony Ericsson store for more mobile phones and accessories.