Last year I blogged about the Disney Fairy Tale Wedding Dresses; some of them I loved, but others were just plain hideous. I'm not sure when these newest dresses were released, but I'd thought share the latest additions to the line.
Now one thing I just don't understand is the ugly backdrop of all the photos. Unlike the previous batch, the quality of these photos just aren't up to scratch, and the colourful backdrop really doesn't help showing off the dresses. I still think some of these dresses don't have anything remotely "princessy" or "fairy tale" about them, and certainly don't have anything to do with the characters they were inspired by.
Once Upon A Time…
Not so long ago, one girl dreamed of going to the ball and finding her prince. This famous fairy tale begins with a single wish, an exquisite dress and the dream of a lifetime.

Today, the timeless Cinderella tale comes alive with classic glamour. Silk tulle and duchess satin make these gowns fit for a true princess. Stunning touches of scattered crystal and silver threading sparkle and shine like the midnight sky.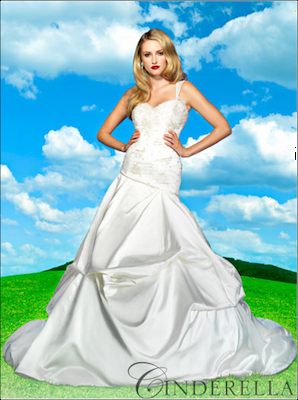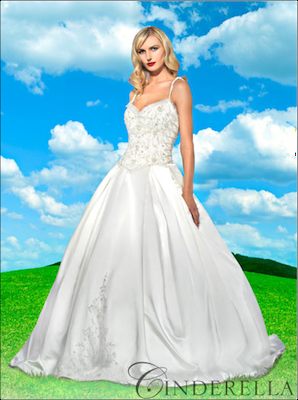 With a single kiss, Sleeping Beauty's dream comes true. She finds her prince, falls in love and discovers that she's already a real princess.
Here, this classic tale is retold in regal fabrics of satin, chantilly and netting. The theme of pretty romance rings true with beautiful touches of crystal and pearl embellishments — perfect for any princess.
Luminous, radiant, graceful, harmonious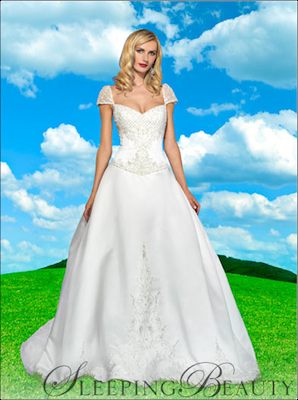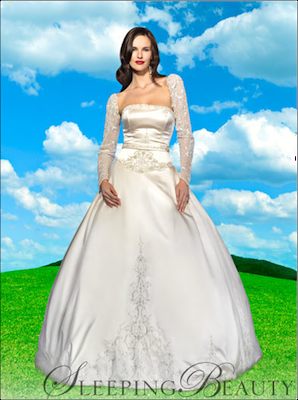 The Fairest Of Them All…
The first to show us that true love lasts forever, Snow White finds her prince and claims her kingdom.
This collection captures her gentle grace and beauty in exquisite silk, chiffon and satin. Beads, pearls and lovely appliqués tell the story of sweet elegance and enduring love as this fairy tale comes true.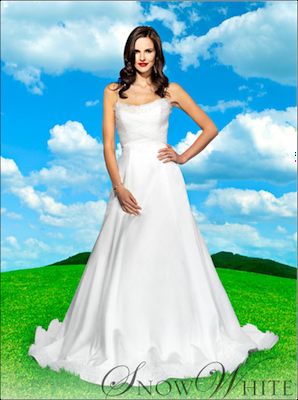 Follow Your Heart…
A new world awaits Jasmine as she follows her heart and finds true love. Here, fairy tale wishes take flight and happily ever after becomes the greatest adventure.
This enchanting collection reflects Jasmine's bohemian spirit. Gowns drape in chiffon and satin. Exotic details include clustered beadwork, appliqué lace and just a touch of wanderlust.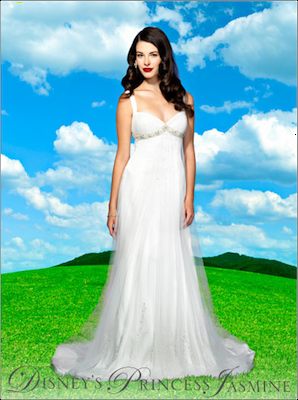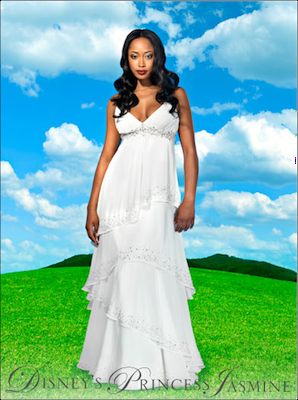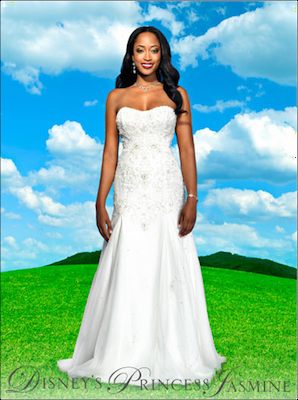 Love Changes Everything…
…As Ariel soon finds when she places her heart above all else. Willing to cross oceans for true love, Ariel discovers the world beyond the sea all that she dreamed it to be.
This romantic collection pays tribute to Ariel's oceanic home with touches of pearl beading and underwater imagery.
Silk cascades and drapes for a sultry look that transcends time and two different worlds.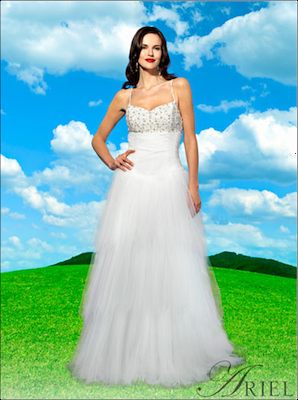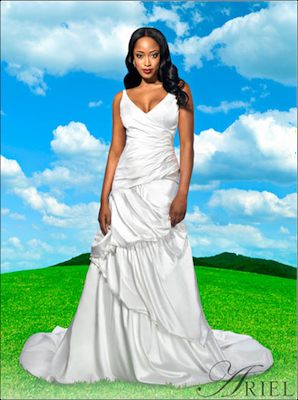 The Heart, Like a Rose, Blossoms When Loved…
Open and true, Belle sees beyond the surface, making all that she casts her gaze upon beautiful. Guided by her heart, Belle finds her prince, breaks a spell and claims her destiny.
This story continues in stylish sophistication with ribbon and bands of satin. Here, taffeta and tulle blooms pay tribute to Belle's gracious spirit. With elegant details like scattered beading and lovely lace, this fairy tale lives on.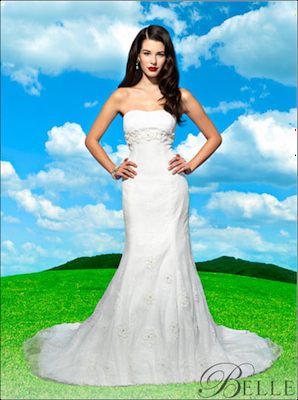 I think my favourites are the second Cinderella dress, the second Sleeping Beauty one, and the first and the third Jasmine dresses. I really don't like the Ariel and Belle dresses, while I just loved those lines in the previous collections (the Ariel Collection 2 and the Belle Collection 1).
Check out all the dresses at the Disney Fairy Tale Weddings website.
(Photos courtesy and copyright of Disney)