I've been lately addicted to trying out new lipsticks, lip glosses and lip balms, and I thought I'd share my experiences with a couple of them. I've got quite dark pink lips, so a lot of shades won't work for me, with my natural lip colour shining through.
Bourjois has quite a large range of lip glosses, all under the name "Effet 3D". There's the standard Effet 3D, the Effet 3D Cosmic, and the Effet 3D Max. Basically I think they're all the same, with the Cosmic being more glitterier and sparklier, and the Max being shinier.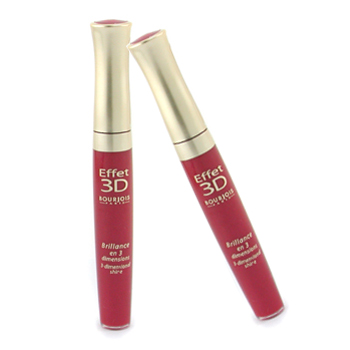 I tried out the standard Effet 3D and went with a nice dark red shade called Rouge Classic. The colour is great and gives the proper type of cover for my lips. The gloss is a little bit on the gooey side, and is slightly too sticky: strands of my hair keep getting stuck in it, which is a bit of an annoyance. It does however have the right amount of shininess in it. The application brush is a bit simple, and I found it difficult to apply the upper lip curves properly.
I always hate it when lip glosses smell and taste "chemical", but the Effet 3D doesn't suffer from either of those problems. It has a candy like smell, and a similar taste. Like other lip glosses, the longevity of this one isn't that great, and you do have to re-apply it often during the day.
I really liked this lip gloss, and I think I'll be wearing it often in the future. Colour-wise I think I went with exactly the perfect colour for my lips, although I would love to try out some of the other ones too.
Bourjois Effet 3D: £6.84 at your local drug store.