I'm pretty much addicted to both Carcassonne and Settlers of Catan these days, so imagine my delight when I found out both of them are (soon to be) available on the Nintendo DS (discovered via Twitter while checking out the 'tag' carcassonne). I'm not sure how I missed this, but the Catan version has been available since this May!
The Nintendo DS version of Catan was developed in collaboration with Klaus Teuber. Besides the Basic Game, it also contains scenarios from the Seafarers expansion (among others, Greater Catan) that offer additional adventures and challenges. The Basic game presents a varied Campaign with eight different computer opponents. You can also play against up to 4 others over the wireless Nintendo WiFi connection. Here's the trailer of the game:
From what I can find, I think it's only available in Germany, but the NDS cartridge contains the English as well as the German language version. So far, I haven't found an actual store that sells this game though; apparently it's not as popular as I imagined it could be. If anybody finds out where you can get Catan for DS, please let me know.
The Carcassonne game for the Nintendo DS will be coming out this September. It's already listed on Play.com for £24.99, so that will at least be available here in the UK (no idea about the US though).
Carcassonne for Nintendo DS will contain the main game including the River expansion. In multiplayer mode, both Single-Card Play and Multi-Card Play will be available for Nintendo DS owners and their friends via the wifi connection. The adaptation is true to the original, but with three added new locations: the Asian, Arabic, and Nordic worlds. I'm curious to see how this looks; I can imagine the gameplay will be exactly the same, it's just different "themes" basically in which you can play in.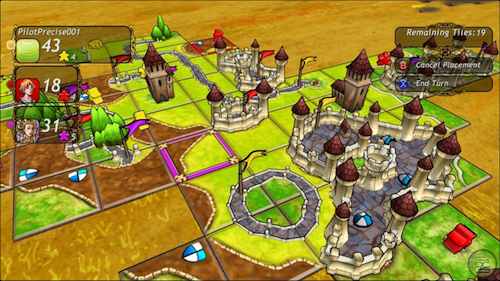 The above screenshot is from the Xbox Live version, so I'm assuming we'll get a smaller trimmed down version of that. Still, I think it could look pretty sweet, and it's definitely the type of game I'd love for on my DS.
Anybody know of any other Nintendo DS boardgame versions?