Now for the second part of my Christmas wish list. I already blogged about the normal books last week and this time I've listed the comics/graphic novels I want. I'll try to be a bit more informative than the previous post, actually writing a bit about the books (was impossible last time with the amount of books in that list). The main reason I'm writing about these is that they all look like great books and you might get inspired to get these for the geeky gal or guy in your life.
Scott Pilgrim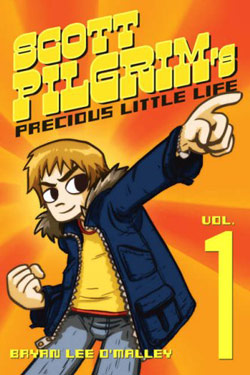 This series has been on my list for some time now; it's about Scott Pilgrim, a guy who falls in love with a girl, but has to beat her 7 evil ex-boyfriends in battle before he can date her. A film adaption is currently being made based on it, and it looks awesome! Here's the description:
Scott Pilgrim's life is totally sweet. He's 23 years old, he's in a rock band, he's "between jobs," and he's dating a cute high school girl. Nothing could possibly go wrong, unless a seriously mind-blowing, dangerously fashionable, rollerblading delivery girl named Ramona Flowers starts cruising through his dreams and sailing by him at parties. Will Scott's awesome life get turned upside-down? Will he have to face Ramona's seven evil ex-boyfriends in battle? The short answer is yes. The long answer is Scott Pilgrim, Volume 1: Scott Pilgrim's Precious Little Life.
The first volume Scott Pilgrim's Precious Little Life is available on Book Depository for £6.07.
Runaways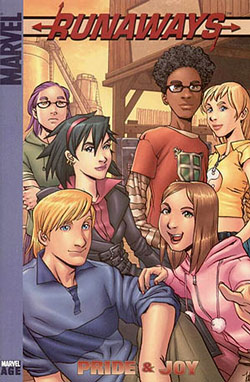 I love stories with people discovering they have special powers and Runaways has an interesting slant to it: a group of kids find out their parents are "The Pride", a criminal group of mob-bosses, dark wizards and 'more evilness'. They runaway and learn that they've inherited their parents powers.
All young people believe their parents are evil… but what if they really are? Meet Alex, Karolina, Gert, Chase, Molly and Nico – whose lives are about to take an unexpected turn. When these six young friends discover their parents are all secretly super-powered villains, the shocked teens find strength in one another.
The first collected edition Runaways vol 1: Pride and Joy is available on Book Depository for £4.08.
Rising Stars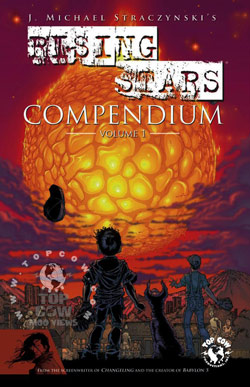 J. Michael Straczynski! Ever since Babylon 5 I've wanted to read some of his non TV show stuff, and Rising Stars looks like something right down my alley. It's about 113, called "Specials", born with special abilities after a comet struck near their hometown while they were in utero. The series explores how society may react to the advent of superpowers and how those who are Specials may react towards society and each other.
There are multiple editions of this series and it can be kind of confusing what exactly is what. The easiest to get is the Rising Stars Compendium, which collects all publications in one volume (£27.93 on Book Depository for the paperback, £56.30 for the hardcover). This version covers everything, so you don't have to get anything besides that. Besides that though, they still also sell the thinner volumes, each covering parts of the story (5 volumes in total), but I'd suggest the compendium is easier (plus cheaper on the long run).
Buffy Season 8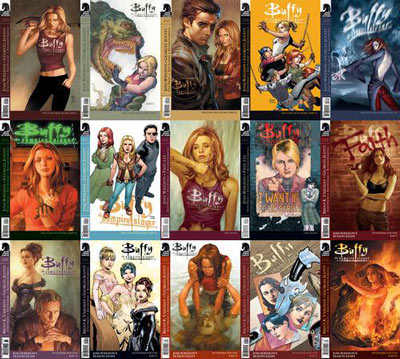 I loved how Buffy ended it's TV show, but still I was happy to find out that it would continue in comic book form. I've read the first three collected editions so far, and want the fourth and fifth ones that are out now (Time of Your Life and Predators and Prey).
The actual issues have been coming out almost once every month since March 2007, and in total there are now 30 issues. I tried collecting these issues, but it was easier to just wait for the collected editions. Each collected edition bundles 5 of the issues together (so far there are 5 of these, covering issues #1-#25). I'm not sure how much more I can say about this, it's a definite must-have for every Buffy fan.
The first collected edition The Long Way Home is available on Book Depository for £6.51.
Fray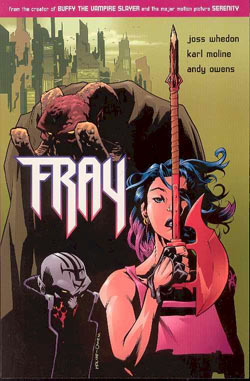 Yep, another Buffy/Joss Whedon comic. Well, technically it's not 'Buffy', but it is part of the Buffy-verse. Set in the future, Manhattan is now a slum, run by mutant crime lords and disinterested cops. Stuck in the middle of this all, is Melaka Fray, a vampire Slayer.
Fray is available on Book Depository for £10.07.
Fables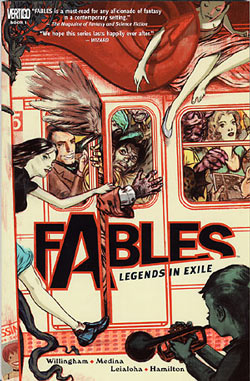 I adore re-interpretations of mythology, fairy tales, and other old stories. While it's not that difficult to find good re-imaginings of mythology, it always is a bit trickier with fairy tales. Fables though seems like exactly the type of re-interpretation that I'm interested in.
The series deals with various characters from fairy tales and folklore – referring to themselves as "Fables" – who have been forced out of their Homelands by "The Adversary" who has conquered the realm. The Fables have traveled to our world and formed a clandestine community in New York City known as Fabletown. Fables who are unable to blend in with human society (such as monsters and anthropomorphic animals) live at "the Farm" in upstate New York.
The first volume of Fables (Legends in Exile) is available on Book Depository for £5.16.
Yoko Tsuno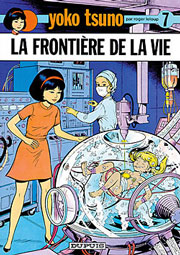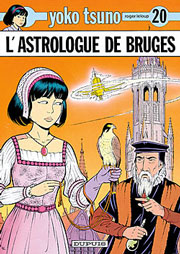 I blogged about this series last week, and as I said then I would love to have these in English (so that I can lend them out and show people how awesome it is). If you haven't seen that post and are too lazy to click through and read there what it's all about, it's about a young Japanese electrical engineer who gets mixed up in time travel, space and all sorts of other sci-fi-y adventures.
The first volume On The Edge of Life (weird, it's actually not really the first volume, not according to the original French version, but it's the one they started publishing in English first and is numbered as #1) is available on Book Depository for £4.45.
Any tips on what other comics I should get? Or I should put on my wish list next time?