Have you seen Kick-Ass yet? If not, why the hell not? It's an awesome movie and everybody should go to the cinema to watch it (see my review here). If you have seen it and thought it was as awesome as I did, you might want to get your hands on this movie/comic tie-in (actually… on second thought, you should go and get the comic first, read that, and then this).
Kick-Ass: Creating The Comic, Making The Movie is a gorgeous book about how both the comic and the movie were developed. Mark Millar mainly tells the tale of the entire process, but throughout the book you get snippets from tons of others who were involved in the comic or the movie. You get to read about the collaboration between Millar, Matthew Vaughn and Jane Goldman, how they created the movie script while the comic wasn't even finished yet. How the casting went for all the different characters. And how the look for the movie and the comic was created.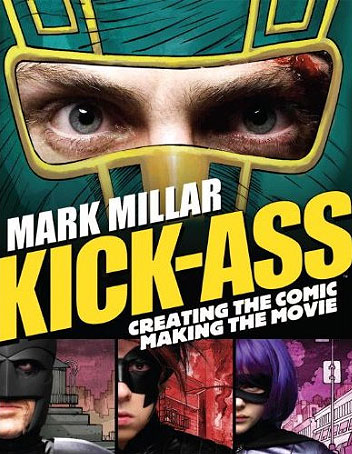 Visually this book is full of eye candy. There's early concept art for both the comic and movie, from costume design to set design (it's fun to see the thought processes behind the difference between the comic and movie outfits of Big Daddy and Hit Girl). Pieces of storyboards and sketches. Photos of the sets and during the shooting. There's tons of it.
I had as much fun reading this book, as I had watching the movie and reading the comic. It's not a boring read at all, which admittedly a lot of movie tie-ins are. It's great to discover what goes into making a comic/movie like this, yet how different it was because it was independently made without a studio. One thing though: there are spoilers in this book for the movie and the comic (specifically the differences in plot between the two); I suggest reading this once you seen/read both.
If you loved Kick-Ass as much as I did, then this book is a must-have for your library. It's a great read, and something every Kick-Ass fan should own.
Kick-Ass: Creating The Comic, Making The Movie is available on Amazon.co.uk for £9.79 and on Amazon.com for $13.20.