During my teen years I got completely addicted to all things Ancient World: Egypt, Rome, Ancient Greece, I read everything I could about them. Somehow during those years the ankh became my lucky symbol; every time I had an exam or something else important I would always try to have an ankh with me. This went on for some time, so eventually my mum gave me a simple silver ankh necklace.
Nowadays I still wear that necklace occasionally, although not as ardently as I used to. Up until moving to London, I used to wear that necklace every single day, never even bothering to take it off. The reason I stopped wearing it that much? Having a kitchen with a proper oven.
Anyway, I love the simple design of the ankh, and have always wanted another larger necklace. But most designs with ankhs are so embellished, with too many curves or colours. I finally came across this simple one though from Etsy store Ajewelryboxx for only $20: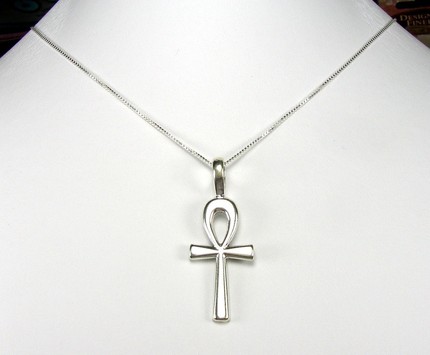 Nice, right? Not too big and lumpy, but still not too small. Check out more from Ajewelryboxx.