A couple of weeks before Christmas I got an email about whether I wanted to host my own Karaoke party courtesy of T-Mobile. They'd provide a Lucky Voice box to setup everything I'd need for karaoke at home and some vouchers for food and decorations. Cool, right?
So I held a TV show themed karaoke party! I ended up dressing as Blair Waldorf from Gossip Girl, and made some awesome TV show inspired cocktails. We created the Walter Bishop (a White Russian with a scoop of cookie dough ice cream), the True Blood (Southern Comfort and raspberry juice), the Miss Geeky Margarita (normal margarita with passion fruit), the Charles Carmichael (espresso Martini), and the most awesome Big Bang Slippery Nipple Grasshopper Concoction (Sambuca, Baileys and Creme de Menthe).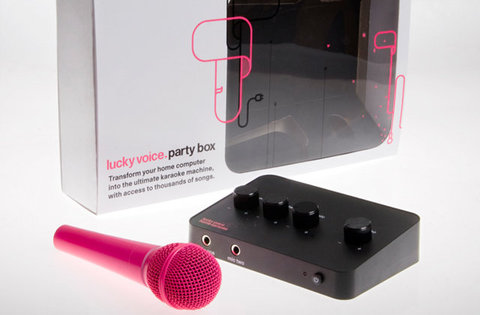 The Party box I received contained everything you need to setup a karaoke night at home. It had a neon pink microphone, a karaoke mixer, a 5m microphone cable and more cables to connect the mixer to your computer or hi-fi. Next to that it also comes with a month's unlimited access to Lucky Voice home (worth £7.99). Once the month has expired you can easily top up your account with either song credits (50 songs for £4.99, 100 songs for £7.50, 250 songs for £12.50 or 500 songs for £19.99) or unlimited singing offers (24 hours singing for £3.99, 1 month for £7.99, 6 months for £29.99 or 1 year for £49.99).
The karaoke was really easy to setup and the Lucky Voice website is very easy to use. We've got a Mac Mini connected to our TV in our living room, which was perfect for karaoke! The Lucky Voice site has over 7500 songs and most of the ones I was looking were there (I think I managed to come up with a couple I couldn't find, but I don't remember anymore which ones those were).
The Lucky Voice party box is great if you want to organize a karaoke party at home. If you want to try it out though, T-Mobile are currently offering their customers a free Karaoke night in (just text 'Lucky' to 3000 and you'll receive a special code for 24 hour access to Lucky Voice).