I got to try out this bag before Christmas, but because of being so sick around that time, I completely forgot to write up this review. And I forgot to take photos of the bag (and me). Anyway here's finally my review.
The Silvi is a cross body bag with a quilted design, available in black, brown, gold and black pebbled. I thought it would be perfect as a secondary bag for most of my medium gadgets, like my iPad and DSLR. It's a bit smaller though than I imagined. I tried to put my sleeved iPad in and it just fits. Just. It's not a bag I'd comfortably use though as "my iPad bag" (maybe it works better with other sleeves, but with my one it was a too tight fit. I do have quite a bulky sleeve though). For my DSLR though it was great! It fit nicely in the Silvi with some spare room for a second lens and whatever other gadgets you have with you.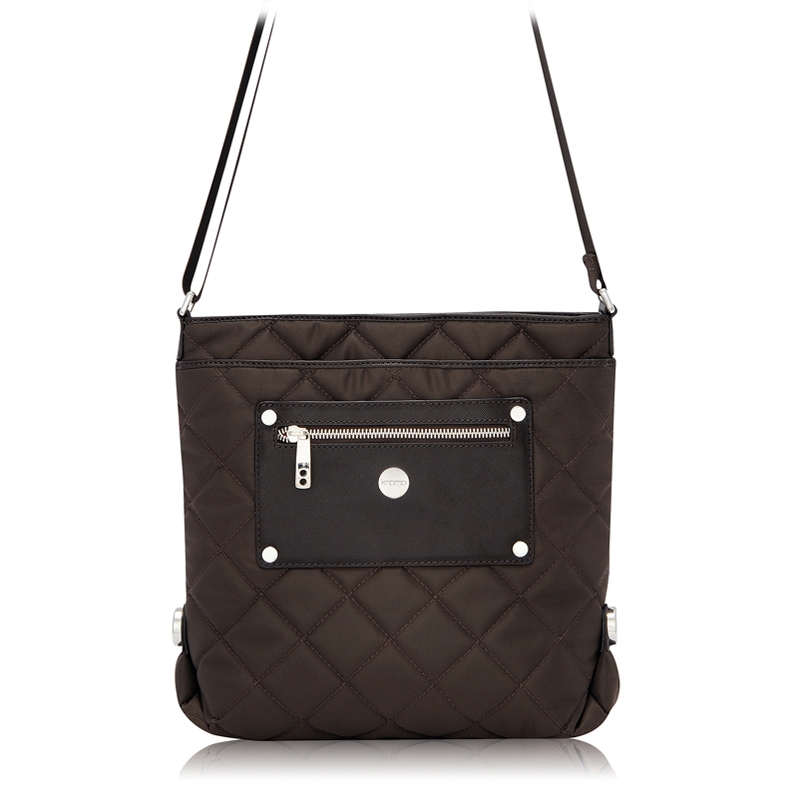 On the outside the Silvi has two pockets (front and back) which are handy for things you easily need to reach (like your Oyster card and phone). It closes with a small magnet, so you also don't feel as if it's completely open and available for everyone to reach into (yes, I am a bit paranoid of pickpockets). Besides that there is a small zipped front pocket, slightly larger than a credit card (it's a great spot to store your business cards). Inside is one main compartment with a zipped pocket on one side and a mobile phone sized pocket on the other.
The Silvi is a cute little bag and it would work great as a secondary gadget bag. It's perfect for a DSLR and similar sized gadgets.
The Silvi is available on the Knomo website for £65.