If only I lived in New York! I came across this New York bakery called Ruby et Violette and they do these amazing sounding cookies and brownies. They've currently got 40 flavours to choose from, but they change their favours throughout the year doing over 100 different flavours! And those flavours sound AWESOME.

The best thing is that they've got boozy cookies. My favourites (as much as I can have a favourite without actually having tasted them) are the Black Russian and Champagne Strawberry. Kahlua in cookies? Why have I never attempted this before? The other boozy flavours are Creme De Menthe, Mimosa, Pina Colada and Rum Raisin.
Besides those cookies, here are my other favourites:
Stuck on You – Butterscotch, caramel, marshmallows and chocolate. Nuf said?
The Breakup… His Story – This is the answer to any bad day. Oatmeal, peanut butter, caramel, dark chocolate and smoked salt. The result: Breakup?…What Breakup?
The Breakup… Her Story – Each side of a breakup has similarities – in this case, oatmeal, peanut butter and caramel – but it's the subtle differences that really matter. Her Story has the sweeter twist of maple syrup and white chocolate topped with maple sugar crystals.
Exotic Seduction – Who would have thought curry and chocolate would marry well? Luckily – we did, because this is unbelievable.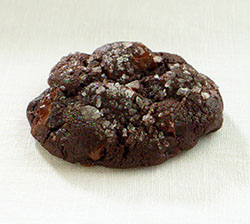 First Kiss – Intensely rich, deep dark chocolate, topped with sea salt for that extra bite of flavor.
Rose – Dark chocolate creates a delicate harmony with crystallized rose petals.
Don't they sound amazing? I need to go to New York now to try these cookies! They ship to anywhere in the US, but they also have a cafe in NY (which also sells ice cream and more).
Check out more flavours on Ruby et Violette's site.