I wish I had an award show or grand gala where I could wear a gorgeous evening gown like these. Instead I'm writing this blog post with a snoring cat curled up next to me, while wearing an adorable penguin pyjama (me that is, not the cat). Yeah, my life is sooo glamourous!
My favourite dress of the night was Hailee Steinfeld's Marchesa, which she apparently helped design. It's just so cute and adorable; for any other actress it would be too cute and adorable, but at 14 it's perfect for her.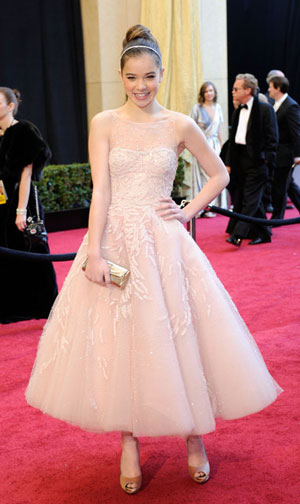 I initially really didn't like Cate Blanchett's dress, but the more I see it the more interesting it becomes. The shape is unique, yet I think she manages to pull it off.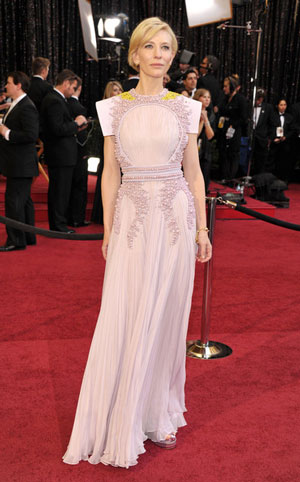 There were a lot of red dresses on the red carpet this year, but my fave was Jennifer Lawrence's Calvin Kline. It's a very simple silhouette, and she looks gorgeous: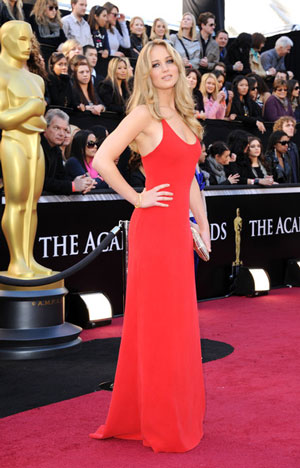 I'm not a fan of Hilary Swank or feathers, but I'm digging this dress. Just not sure if I like it on her.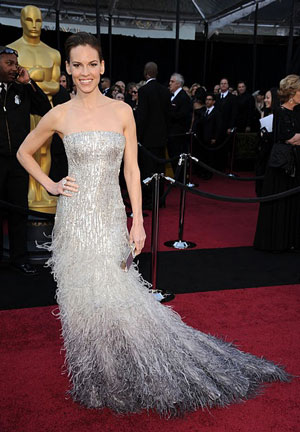 Love this dress! It's quite sparkly and you can't see where the top actually begins, but that's kind of why I like of this.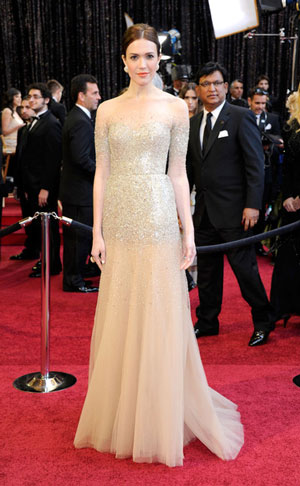 Now on to the ones, that I wasn't completely convinced by, but still found interesting. Like Amy Adams in this L'Wren. I like the dress, but the chunky necklace and bracelet don't seem to fit with it.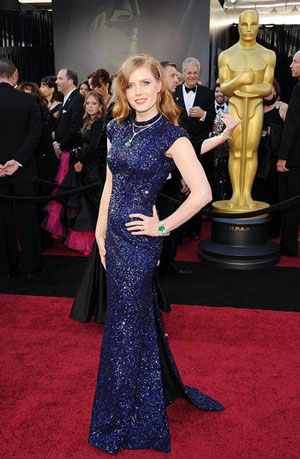 When I saw NIcole Kidman on stage presenting one of the awards, I remember thinking I really liked her dress. But looking back at all the photos, I can't help but think this Dior dress looks wrong. And paired with orange shoes? I still need to look back at the footage of her presenting; it was this dress she was wearing, right?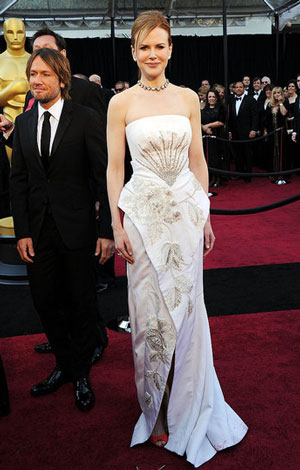 Again, I sort of like this. It's a great colour and an interesting design, but I'm not too sure about the boob stickers or whatever they are.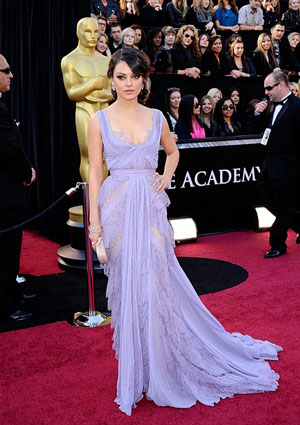 So what was our favourite dress of the night?