Only 8 more days till Christmas! I can't wait to see my family open up their presents, hopefully they'll enjoy the things I've got for them. And of course I'm looking forward to see what I'm getting too. I didn't want to leave you guys out though, so I'll be hosting a couple of giveaways on MissGeeky!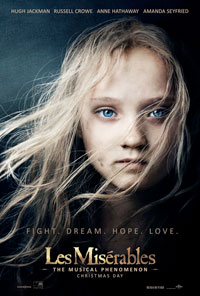 This first giveaway is awesome. Thanks to Universal Pictures one lucky Miss Geeky reader will win a Les Misérables gift pack! It includes:
$25 Visa Gift Card for a night out at the movies
The Les Misérables Movie Soundtrack
A Les Misérables T-Shirt
A Les Misérables Journal
To enter the giveaway, leave a comment behind with your favourite movie musical scene. You'll also get a second entry if you're following me on Twitter and tweet about this giveaway with the hashtag #missgeeky. The competition ends on December 28th after which I'll randomly draw a winner and is open to everyone.
I am so looking forward to Les Misérables, so I'm super happy that I get to giveaway this cool gift pack! The movie looks great: awesome songs, great actors (Hugh Jackman *swoon*) and gorgeous visuals. I get goosebumps every time I hear Anne Hathaway singing in the teaser trailer:
I can't wait to see this! It's being released in theatres in the US on December 25th and in the UK on January 11th (if you're based in another country check out the IMDb release dates page).