You can't judge a book by its cover, but you can certainly be charmed by a book's cover! I love the cover from Geist; it's so pretty and has got me at once interested in the book. You can straightaway see it's about mages and ghosts, and reading the summary seems to confirm that. I'm intrigued by the lion though… nothing I've read so far seems to mention anything about him.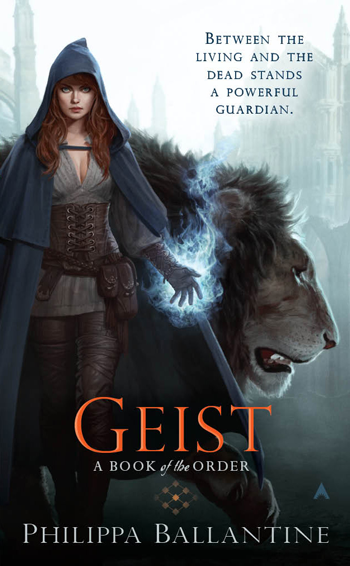 Here's the summary from Amazon:
Between the living and the dead is the Order of the Deacons, protectors of the Empire, guardians against possession, sentinels enlisted to ward off malevolent hauntings by the geists. Sorcha, among the most powerful of the Order, is called to a small settlement, But more is occuring than just geist activity. It's a conspiracy of evil that reaches back to her own Abbey. Even if she survives, what hell would she be returning to?
Do you like the look of Geist? I'll need to wait at least a year before picking it up (because of my self imposed book buying ban), but I'm curious to see if this is any good!
Geist by Philippa Ballantine is £5.24 on Amazon.co.uk and $7.99 on Amazon.com.