My NY's book resolutions seem to be going good: I'm exactly on track for my 52 books challenge and I haven't bought a single book yet. I am allowing myself to buy 12 predetermined books this year though, and one of those will be Midnight Blue-Light Special.
It's the second book in Seanan McGuire's Incryptid series, again starring Verity Price, monster hunter/protector and professional ballroom dancer. I loved the first book; Verity is such a fun character. Plus the talking mice are awesome!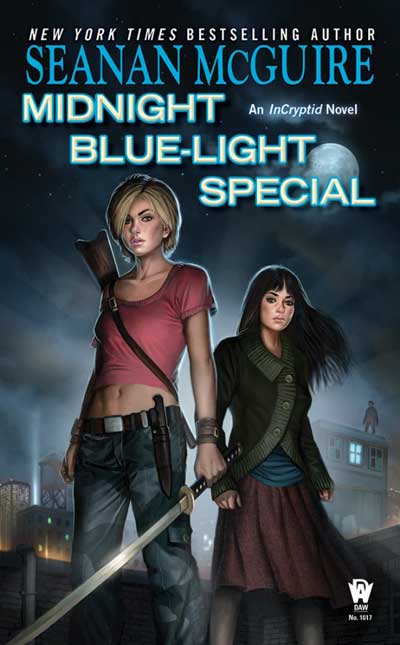 Here's the description from Amazon:
The Price family has spent generations studying the monsters of the world, working to protect them from humanity–and humanity from them. Enter Verity Price. Despite being trained from birth as a cryptozoologist, she'd rather dance a tango than tangle with a demon, and when her work with the cryptid community took her to Manhattan, she thought she would finally be free to pursue competition-level dance in earnest. It didn't quite work out that way…

But now, with the snake cult that was killing virgins all over Manhattan finally taken care of, Verity is ready to settle down for some serious ballroom dancing—until her on-again, off-again, semi-boyfriend Dominic De Luca, a member of the monster-hunting Covenant of St. George, informs her that the Covenant is on their way to assess the city's readiness for a cryptid purge. With everything and everyone she loves on the line, there's no way Verity can take that lying down.

Alliances will be tested, allies will be questioned, lives will be lost, and the talking mice in Verity's apartment will immortalize everything as holy writ–assuming there's anyone left standing when all is said and done. It's a midnight blue-light special, and the sale of the day is on betrayal, deceit… and carnage.
Midnight Blue-Light Special by Seanan McGuire will be released on March 5 and will be £4.94 on Amazon.co.uk and $7.99 on Amazon.com.