Last Wednesday, I got the chance to see a screening of Definitely, Maybe, the new movie from the makers of Notting Hill and Love, Actually.
The Plot
Ryan Reynolds plays the Manhattan advertiser Will Hayes who is about to get divorced and his daughter, Maya (Abigail Breslin), wants to hear the story of how he and her mother ended up together. He agrees to tell her the whole story, but changes the names, so that she (and the viewers) will have to keep on guessing which woman Will eventually marries. The story flashes back to 1992 when Will moves to New York for two months to work on the presidential campaign for Bill Clinton. Over the course of the next 16 years, Will has to deal with his relationships with three different woman, but which of these is Maya's mother? Is it Emily (Elizabeth Banks), Will's college sweetheart, who's struggling with their long-distance relationship? Or is it April (Isla Fisher), the quirky copy machine girl? Or is it Summer (Rachel Weisz), the outspoken journalist and childhood friend of Emily?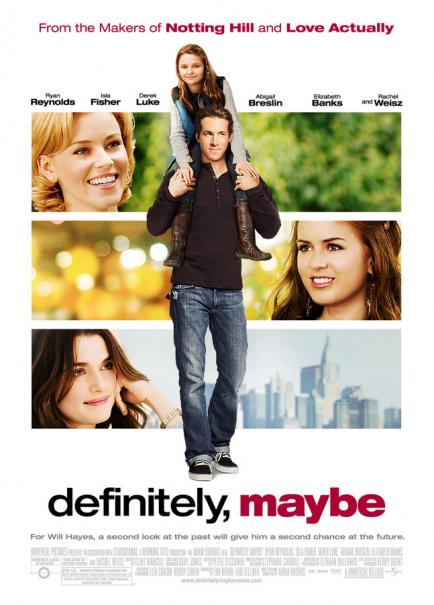 The Good and The Bad
This is not your typical romantic comedy, where boy meets girl, boy falls in love with girl and they end up happily ever after. And that's a good thing. In contrast to other movies, Definitely, Maybe keeps the viewer guessing on who Will will end up with and it is not until the end of the movie that you finally find out. This takes away the whole problem of predicability that most romantic comedies suffer from.
Ryan Reynolds sets down a likable character and he has a great chemistry with each of his female leads. His character grows in the 16 years that we see him and Reynolds achieves portraying the right transformation. There's really a difference between the 1992 "Will" and the current day "Will". Abigail Breslin is sweet as his questioning, smart-alecky 10 year old daughter, although I know there are people who are going to find her annoying.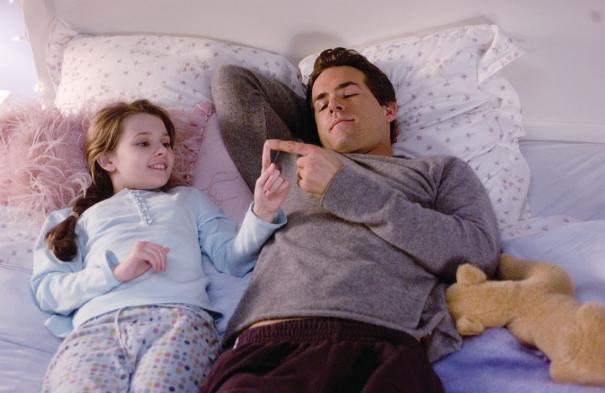 The three love-interests are perfectly cast. I love that Elizabeth Banks is getting larger movie roles. She was great in Scrubs and in this film she excels in bringing the girl-next-door Emily to life. I'm looking forward to see her Zack and Miri Make A Porno. I hadn't seen Isla Fisher before, but I had heard a lot of raving reviews about her previous performances. Now I understand why. Her character is so fun and spontaneous, but at the same time quite vulnerable. Rachel Weisz never fails to amaze me, again pulling off a completely different character than in her previous films.
While the guessing game keeps the movie unpredictable and original, it also makes it a bit confusing. With there being different girlfriends, which couple are you supposed to root for? It saves itself a bit by having three likable actresses. Each character has endearing qualities and at a certain point in the movie it didn't matter for me anymore who Will ended up with.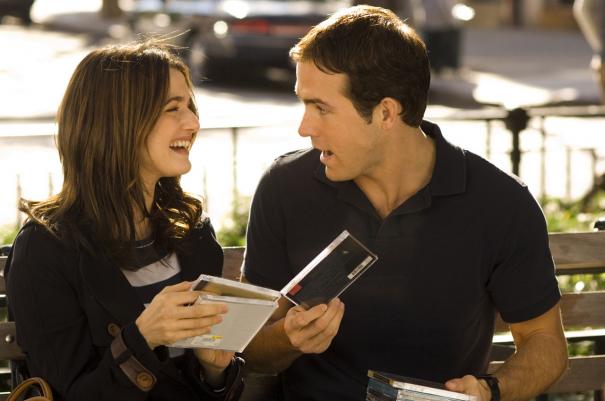 This film may be a romantic comedy, but don't expect romance and comedy every step of the way. Will has three different girlfriends and you know from the start he'll only end with one, so be prepared for at least some heartache and heartbreak.
The Verdict
This is a sweet romantic story of how a man deals with his various relationships and eventually finds love. If you don't like romantic comedies, this isn't going to change your mind, but it exceeds the standard chick flick productions. Definitely, Maybe is perfect as a date movie and I am sure it is going to be a big Valentine's Day success.
[rating:4]