I'm a sucker for Ben & Jerry's. I like ice cream, but I love love love Ben & Jerry's. My favourites are Cookie Dough, Chocolate Fudge Brownie and Half Baked (a mix of the previous two). But then I came across a list of the retired flavours… Oh My God! Some of these combinations just sound so perfect!
Here are a couple of the retired ice creams:
Aloha Macadamia
Milk Chocolate Cashew Brazil Nut Butter Ice Cream with Macadamia Nuts in White & Dark Fudge & a Milk Chocolatey Swirl
 
Baklava
Sweet Cream Ice Cream with Praline Walnut Baklava Pieces & a Honey-Caramel Swirl
Tennessee Mud
Coffee Ice Cream with Amaretto, Jack Daniels Tennessee Whiskey and Roasted Slivered Almonds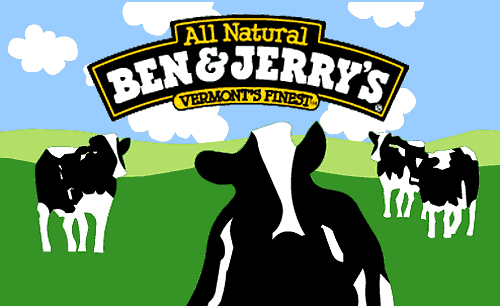 Wavy Gravy
Caramel Cashew Brazil Nut Ice Cream with a Chocolate Hazelnut Fudge Swirl and Roasted Almonds
Honey, I'm Home
Honey Vanilla Ice Cream & Chunks of Fudge Covered Honeycomb
White Russian
Coffee Ice Cream with Kahlua Coffee Liqueur
Don't they sound scrumptious? These are only a small selection of all the retired flavours; the list just goes on and on. I hope they'll bring some of these back out of retirement, cause I'd love to try them. Now I've got a craving for ice cream again!
*sneaking to kitchen and obtaining the treasure from the white jawed ice monster*