Our GeekDinner last Wednesday already showed us how fun the nice people over at Carsonified are, and now they're holding a great contest, where you can win a Golden Ticket. The winner of this Golden Ticket will receive the following goodies:
1. A free ticket to ALL Carsonified 2009 events. This includes Future of Web Design, Future of Web Apps, Future of Mobile, Fuel and all Carson Workshops.
2. Pick one Carsonified event and we'll fly you there and put you up in an amazing hotel, for FREE*
3. An all-access backstage pass at all 2009 Carsonified events
4. An invite to the VIP speaker dinner at one Carsonified event of your choice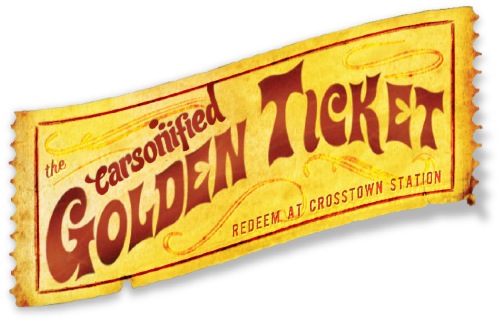 Cool, right? All you have to do to win this great prize is write a blog post (what I'm doing right now) and drum up 25 comments on that blog post. And that's where you, dear readers, all come in. Will you help me with reaching the 25 comments?
To make it a tad more interesting than just a list of "boring" comments, check out the schedule for The Future of Web Apps. Tell me, which session looks the most interesting to you and why?