Last week I got a mysterious email inviting me to a VIP event for a new device that wouldn't be disclosed:
On the 13th November a new device designed to keep you in social sync more than ever before will be unveiled. We thought you'd be interested in coming along and being involved.

As our special guests, you and a friend are invited to this exclusive event to witness how this new product will impact your life and social interactions. Taking place in a premier East End London venue, there'll be music from Disco Bloodbath, The Unabombers and Hexstatic are on visual duties and there'll be plenty of free food and drink.

This is VIP only and places are very limited, so please confirm your attendance ASAP by replying to this email and we'll then send you your official invitation.

The party starts 5:30PM 13th November. More details to follow.
I emailed saying I was interested and got another email in return: an official invite would be mailed (snail mailed) later that week to me and I got a code which I had to fill in on DriedOnPaper.org. Now when I went to that website last week, all you saw were two target like circles with a countdown at the top. After filling my code in and after other people also filled their code in, we got this: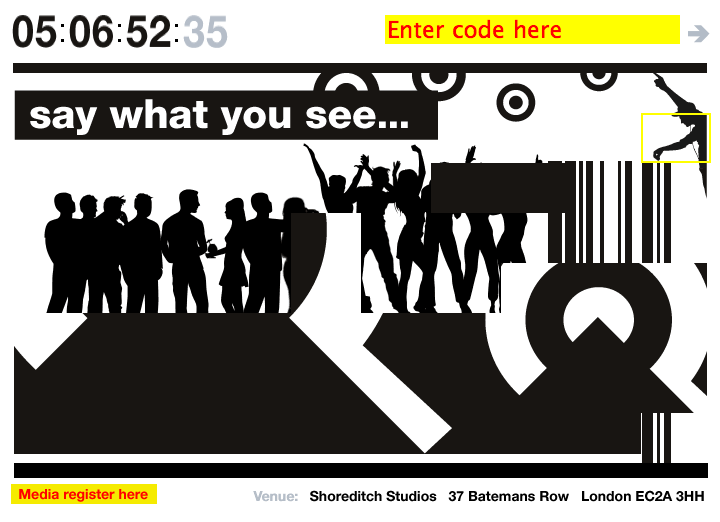 Next to that I got the following message:
Code accepted

---

The countdown's begun… You know when, you know where. Why? We'll tell you when you get there.
More will be revealed once all the codes have been entered.
Come back and check    
The underlying image still hasn't been completely revealed and I've been really curious to find out what this is all about. Then this morning I got a package. Upon opening it, I discovered this:
Stamp? Ink? Dried on Paper? The stamp revealed the following message:
Okay, so nothing new in that, but I'm guessing this slip of paper is my official invite.
At the moment we have only a couple of clues: the phrase "Dried on Paper", dancing people and a DJ (the image on the website) and a stamp plus ink. Oh yeah, and the venue (from what I can make out of the website) is a photo studio. Plus the product is "designed to keep you in social sync more than ever before" and "will impact your life and social interactions". Anybody care to guess what this is about?