I came across this great offer on British Beauty Blogger: you buy any Estee Lauder fragrance and then you can buy their professional make-up collection for only £49 (worth more than £300). On the actual Estee Lauder site though, it was completely sold out and has in fact disappeared now from the page. Yesterday I was lucky enough to stumble on it at Selfridges and I got it straightaway! Yay!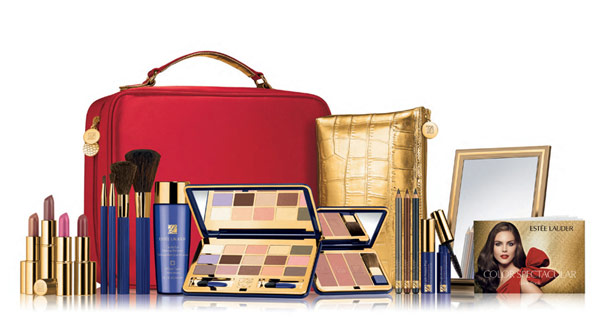 The makeup collection includes 4 lipsticks, an eyeshadow compact with 15 colours, a face compact with 2 blushes and a bronzer, 3 eye pencils, eye makeup remover, 4 makeup brushes, a golden stand mirror, a traveler case and a makeup case. For only £49, that's a pretty good deal. I'm completely in love with one of the lipsticks, and the eyeshadows and eye pencils are a great addition to my growing makeup collection. Keep in mind, one makeup brush alone costs at least £15, so buying the set for those brushes alone make already sense.
They still had quite a couple in stock at Selfridges and I also saw some at one of the other Oxford street department stores (I went to all of them, so I'm not sure which ones still had it).
Here are a couple photos I took of some of the stuff (room is a bit dark, so photos are more bluish than in reality, left out mirror and golden pouch thingy):
Deluxe Eyeshadow Compact with 15 coordinating shades (Sugar Cube, Ivory Box, Honey Drop, Lavender, Chocolate, Tea Biscuit, Copper Penny, Petal, Mulberry, Pale Moon, Cinnamon, Apricot and Mocha Cup in Pure Color EyeShadow, plus Sage Duo in Estée Lauder Signature Eyeshadow)
4 Pure Color Long Lasting Lipsticks (full-size, in Tiger Eye, Candy, Rose Tea, Fig). I'm loving the Fig!
Deluxe Face Compact (Estée Lauder Signature Silky Powder Blush in Rosewood and Nude Rose, and Bronze Goddess Soft Matte Bronzer)
3 Artist's Eye Pencils (great for smoky eyes, in SoftSmudge Black, SoftSmudge Brown and Slate Writer), Projectionist High Definition Volume Mascara (10-day supply, in Black), Lash Primer Plus (10-day supply), Gentle Eye Makeup Remover (full-size 3.4 oz.)
4 Deluxe Makeup Brushes (Powder, Blush, Eye and Lip)
Cosmetic Traveler Case