I've never really gotten the whole Moleskin thing. I mean, I love notebooks and own tons of them, but I've never seen the appeal of specifically the Moleskin notebooks. They don't seem any more special than any other notebook, right?
Well, this line of Moleskins might just convince me to finally get one. They came out last year October some time, but somehow I managed to miss them. The Passion Moleskin collection is specially designed for your life passions; so far, there are six different categories: Book, Film, Music, Recipes, Wine and Wellness. Each journal has dedicated pages for the different passions. For example, Recipes has 6 separate sections for appetizers, first courses, main dishes, side dishes, desserts, cocktails, while Film has alphabetically organized sections to fill in.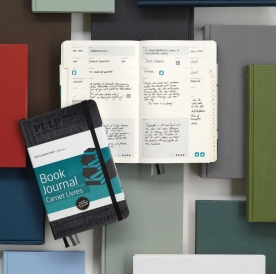 I do like the idea of these, but I still would really want to see these in real life before getting one. Especially the Film and the Book ones seem appropriate for me, but I wonder how the pages exactly look like and how they've been labeled.
Each of the journals are available on the Moleskin website for £15.99.