Remember my failed movie challenge from last year? Cristiano and I realized we hadn't seen tons of the movies in the IMDb Top 250, so we tried to watch one movie from that list which we hadn't seen yet. We failed miserably. It was partly to blame to too busy schedules, but also a bit because of the logistics of agreeing and figuring out which movies to see. The 'priorities' on both of our lists were movies that the other had seen already. Since then I've wanted a simple app that would allow us both to check off the movies we've seen and allow us to compare the two lists. Cue: iCheckMovies!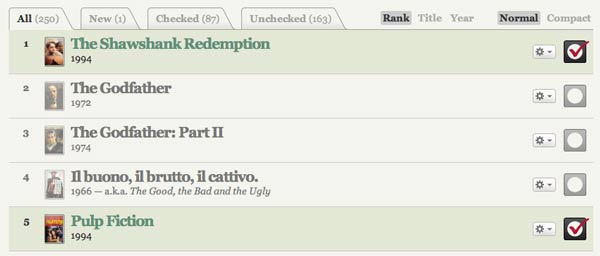 The idea of this website (http://icheckmovies.com) is simple: just check off the movies you've seen per 'list'. They support a wide range of lists and are adding new ones constantly. I now know exactly how many films I've seen in the IMDb Top 250, but also the amount of Best Movie Oscars winning movies. I can also add movies I haven't seen yet to a Watchlist (although this becomes one gigantic list if you just add everything you haven't seen). Also in the future they will be bringing out support for your own created lists, which is really missing at the moment.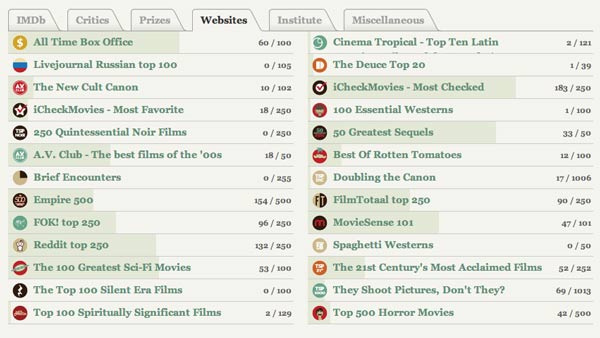 The great thing I find though is that you can add friends and get a comparison of which movies you've both seen. I can get 4 different lists: movies we've both seen, movies neither of us has seen, movies only my friend has seen and movies only I have seen. It's great! I've already discovered a couple of movies that Cristiano has seen, which I can watch by myself while here in the Netherlands (likewise he now knows which movies he should watch while I'm away).
And you can see what both your progress is. In the below image you can my and Cristiano's progress; I'm green, he's brown. Basically he's beating me in most that is shown below, except for Romance and All-Time Worldwide Box Office. Yeah, I'm a sucker for the big blockbustery movies and I don't think it's a surprise that I've done 'well' in that category.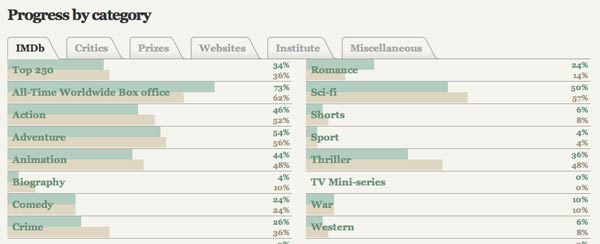 So far I really love this site and I can see myself using it more in the future. There are a couple of things I'd like to see, like list-specific comparisons with friends (I still can't see a list of the movies from the IMDb Top 250 that neither me or Cristiano has seen yet) and maybe multiple watchlists. I know the creators have said they're working on a 2.0 version, so I'm really curious to see what the new stuff will be!
If you want to add me as a friend on iCheckMovies, here's my profile.