One of the more interesting events of the past two years that I've been to has been the Playful events. Each year they manage to get a unique collection of speakers from different fields, all talking about game design (without necessarily being game designers or working within games). And each year I've been blown away by some of the talks given there (see my posts about Playful '08 and Playful '09).
There are still tickets available, and if I was you I try to get my hands on one of them! They're only £50; a pretty good price for a conference like this.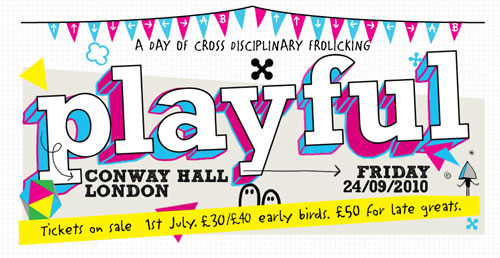 Here is Playful's description of what their event is about:
Playful is a one-day event all about games and play – in all their manifestations, throughout the contemporary media landscape. It's a conference for architects, artists, designers, developers, geeks, gurus, gamers, tinkerers, thinkerers, bloggers, joggers, and philosophers. We look at what PLAY means both creatively and culturally, and put speakers on the stage who offer different perspectives on where we are currently, where we've been, and where we're going. We want people walking away talking about the nature of games…what they mean to different people inside, on the periphery, outside or miles away from the industry.
So will I see you there? To see the full list of speakers, check out the Playful site.