Q: Which side of this movie appealed to you more: the cowboy side or the alien side?
OW: I would say the western, because it's something I never thought I'd have the chance to be a part of, because I felt maybe the genre has died for the most part. I certainly didn't think there'd be a female role in a western that was this interesting, this tough that I would have the chance to do. So I would say the western is what got me.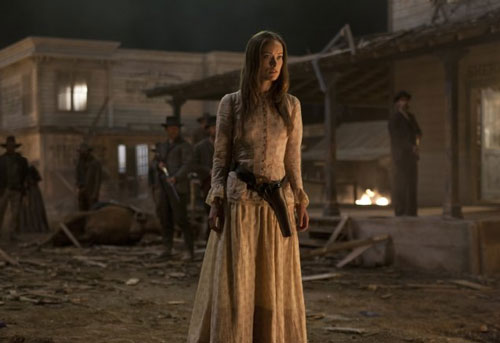 Q: Could you give us some more detail about the craziness of doing the stunt when the aliens lasso you? How did you persuaded mr Favreau to let you do it and exactly what was involved?
OW: That stunt was supposed to be done by my great stunt double and we started off with me on a mechanical horse, which was the horse that they used in Sea Biscuit, but it looked way too slow for our movie. So I ended up getting on the real horse and Jon let me do it. I didn't convince him, our stunt coordinator convinced him. He said he was confidant that I could pull it off, which made me very proud. And I felt safe cause Daniel was riding next to me. I galloped through two 80 foot cranes, and then at one point a bungee cord attached to a harness from my waist yanked me back forty feet into the air.
The danger was that I would get stuck in the stirrups, so the trick was to not get my feet stuck and get ripped in half. And that was the challenge. And it was a lot of fun, it was amazing to be floating above the set and to have this unusual perspective and there was our crew looking like little ants and these incredible deserts and mountains and canyons around us and it just made me realize how ambitious it was to lug these giant machines and cameras out into the middle of nowhere to tell a story. It was just really beautiful.
Q: I'm told you are a Trekkie, and indeed that you have a deep desire to play Captain Kirk.
OW: Well, I grew up watching Star Trek with my family often and my sister was a Trekkie as well. There have been great female characters in Trek over the years and still are. But I think playing captain… well, there was Captain Janeway, she did it well, she's got that voice that I could never compete with. But I would love to play more powerful women in science fiction. I think what Sigourney did for women in science fiction is just incredible and I think she sort of set the standard. And I love the genre and I would love to do more of it.
Roberto Orci: Do you mind if we paint you green?
OW: That's fine. I'd do anything.
Q: In the western for every thousand saloon girls and school mums, there is a Belle Star or an Annie Oakley. Your character clearly is in the minority. And I wondered about the research first of all into the very few women who toted guns in the West, instead of doing the other stuff.
OW: I loved doing research for this role, because I got to learn about women of the old west, which was really fascinating. There's a great museum in Los Angeles called the Autry which I spent a lot of time at and they had a very helpful exhibit at the time called Women Of The Old West which was nice. I loved reading about how tough these women would have to be, I mean everyone had to be tough in order to be these pioneers, to settle in these border towns was not easy. I don't know how long I would have lasted. But I did have some ancestors who did just that, and it was really interesting for me to do this research.
In terms of looking at characters in films I didn't specifically look for female characters, I looked probably at a lot of the same guys we all were. I thought that Ella had a great kind of Clint thing to her as well. I was so excited when I realized I was literally going to step out of the shadows in the saloon to approach Daniel. I was kind of like "oh cool, I get to be the woman in the shadow and come out" and it was just one of those moments where you really fell "ooh, this feels westerny right now". So I think I inspired by all those guys. I mean when I grew up watching westerns I wanted to be Steve McQueen, I didn't want to be the girl, so I had fun being inspired by them as well.
Q: How you established the fact that convinced you knew what you were doing with the handgun, the practice and all that sort of thing you had to go through?
Daniel told me how to shoot my gun. Which was cool, cause now I can say James Bond taught me how to shoot a gun. But it was cool, because the guns were really beautiful and I'm not a big gun person, I'm a pacifist, I don't really love guns in general, but I loved these antique guns, they were so interesting. And not easy to shoot. We did have a gun expert teaching me how to spin the gun, but then I never got to spin the gun on camera. I think sometimes in the wide shots we'd all be spinning the guns, hoping that we could do it and Jon would say "Guys, not all of you can spin your gun. Stop doing it". But I did learn how, and now I have that skill. But I did then learn how to shoot it and now I can do that. I have tremendous respect for all of our props, I thought they were very cool and just another thing that made the whole experience so fun.