This is a cool idea: a bean bag for your book. I must admit I sometimes have difficulty finding the right position to comfortably read a book, and this seems like an interesting way to solve that.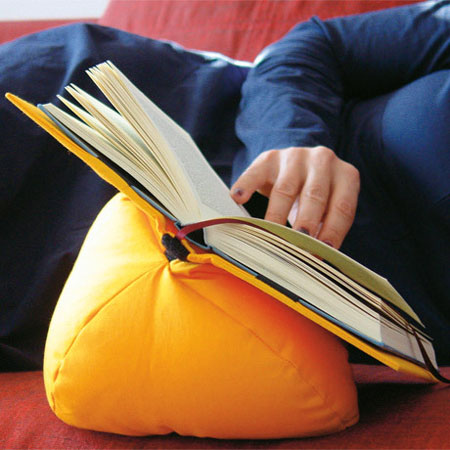 The store describes the book rest bean bag as:
Shakespeare, Hemmingway, Kipling: their words deserve our full attention. The hands-free Book Rest,designed by sisters Angela and Ursula Hartig, lets you park your paperback so that you can concentrate on getting comfy. Made up of a book cover and a small bean bag, and held together with Velcro-strips, this helpful design will take unwinding to the next level.
Paperback?  I somehow imagine this being more useful for hardcovers. I also don't think velcro strips will keep a paperback open that easily. It's a cool idea though. If you want one of these bean bags for your books, it's on Fab for the next 23 hours for €29.50. They also do a cute design for a mug bean bag (which is €19.70):