It's been a couple of days now since I saw The Dark Knight Rises and I have to say I loved it. I'll try to do a proper review later this week, but overall I really enjoyed it and think it's a great conclusion to this Batman trilogy.
I was most looking forward to see how Anne Hathaway's Selina Kyle/Catwoman (although no one actually ever calls her Catwoman in the movie) turned out and I wasn't disappointed. Her Selina is awesome, switching from sweet and vulnerable to sarcastic and devious in an eye blink. I loved almost all of her scenes in The Dark Knight Rises; I'd so like to see a stand-alone Catwoman movie with her, but I don't think it's likely we'll be seeing one.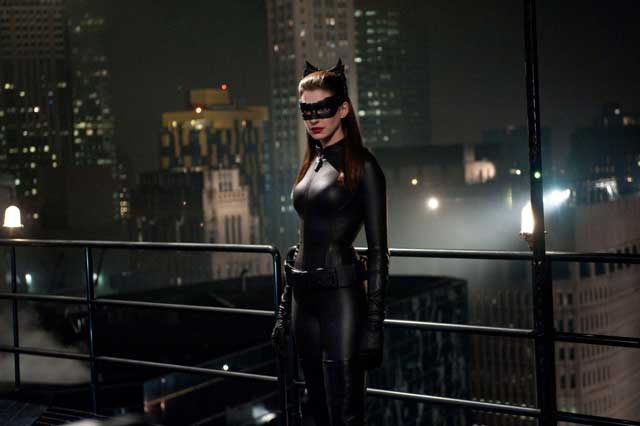 Of course I was also very curious to see her Catwoman outfit. I like that it's quite grounded in reality; the suit doesn't look too costumey and something I'd imagine a cat burglar would wear. I also really like how her flipped up goggles become her "ears". That's not something that was in the comics (I think) and I've seen some more devout fans online not liking the concept at all, but I like the fact that she's not obviously trying to dress as a cat.
The most awesome part of her outfit though has to be her boots. Initially you think they're just a straightforward pair of thigh-high boots, but then you notice the heels resembles knives! Here's a poster featuring her (very photoshopped) heels: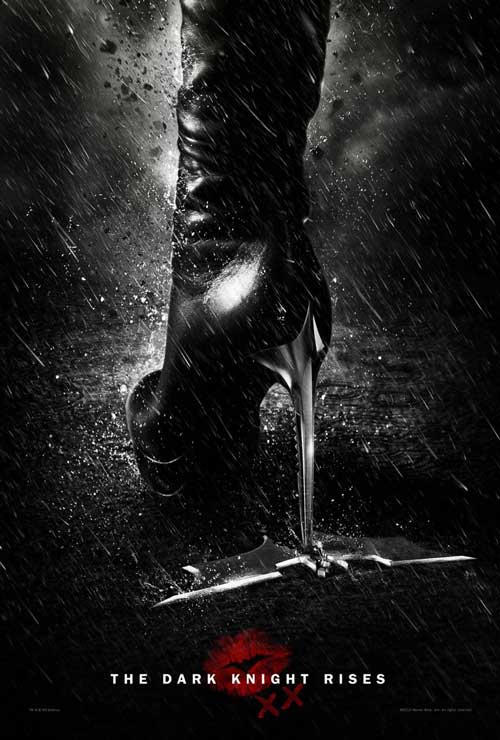 Awesome, right? I'd love a pair of boots like those… well, maybe not with the knives as heels, but the rest of the boot looks pretty slick. So I started googling for a pair like those and I discovered that one of the shoemakers that worked on the boots for the movie wrote a blog post about the boots they created. She works for a company called Theatrical Shoemakers (obviously) and they do tons of shoes and boots for movies, including Prometheus, Snow White and the Huntsman and X-Men: First Class.
Here's what she had to say about the heels (see the photo below):
They were made especially for these boots (though not by us), and they resemble knives – they have a sharp edge running along the back of the heel and a serrated section on the inside curve of the heel. These ones were cast in clear plastic (you can see the strengthening metal rod running through it) which made it easier for us to see exactly what we were doing when attaching screws through the insole and into the heels (without poking through the heel). They were later painted silver by the film's costume department.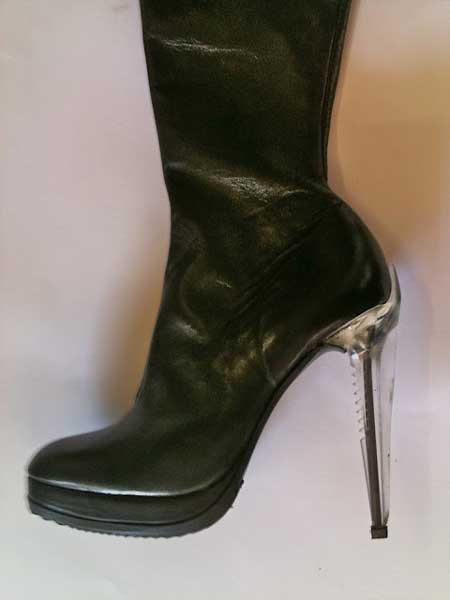 Next to that one pair with the crazy high heels, they also created a range of other heels in different heights that could be worn during stunts and whenever the shoes weren't in a camera shot: a low heel, a wedge and mid-height heel which was covered with silver leather. All the boots looks awesome and I so want a pair for myself! I've very tempted to email the company and see how much a custom pair would actually cost; I've always had problems with finding shoes/boots that fit right (cause my feet are two different sizes), so it might be worth finally getting a custom pair made.
The Catwoman suit isn't the only outfit Anne Hathaway wears during the movie; she has at least 5 different outfits throughout the movie, and I'm pretty envious of all of them. I so want her wardrobe! I especially love the dress she's wearing when she does the finger print exchange, but I haven't been able to find a good photo of it online yet. If I remember correctly, it's a quite fitted black dress with capped sleeves and a modern corset-like detail around the waist. The other outfit I love is her airport one: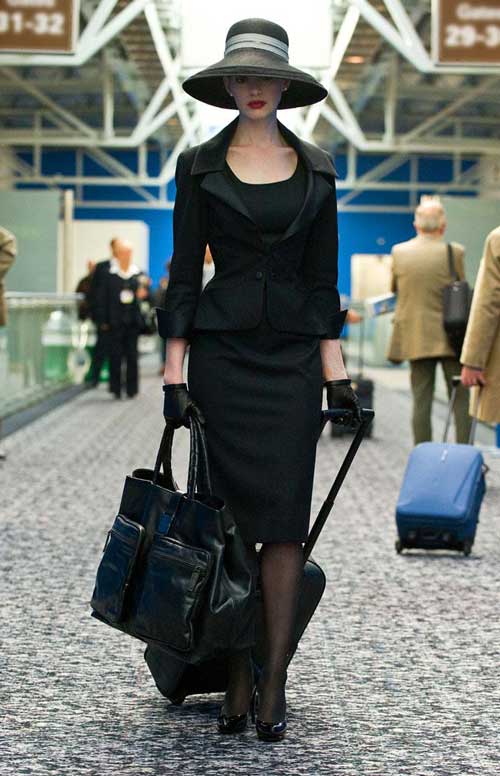 Everything just works so well together and the accessories really make it: the hat, the gloves, the bag and the ear rings. I love the cut of the blazer; it has quite sharp lines, but then has that awesome wide round collar. I've tried to find out who designed it: was it done by the costume designer or is it from an actual fashion brand? I think it could be Armani, which also makes sense as all of Bruce Wayne's suits are Armani already, but I haven't found it among any of their recent collections. Anybody have an idea?
The final outfit I found a photo for is her masquerade ball dress. The top looks great and accentuates her pearls and other assets, but I don't remember much of the rest of the dress (how long was it even? Was this a full length ballroom one?):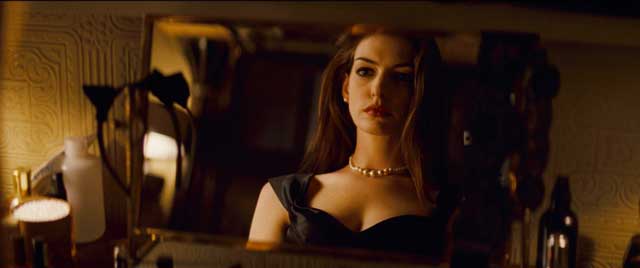 So do you agree with me? What did you think of her Catwoman suit? Are you also envious of all her other outfits? Which one was your favourite?