I can't believe the London 2012 Olympics are over (well, the first bit at least: we still have the Paralympics coming up too). I wasn't expecting to enjoy it all quite this much, but it's been an amazing two weeks. Up until the week before the opening ceremony my response to the Olympics pretty much was: "ugh, public transport is going to be so screwed, I'm going to be a hermit for 2 weeks". But then London transformed… the weather became awesome, the atmosphere around London became electrifying and everybody was suddenly so friendly. The Olympics were so much more fun than I ever imagined they could be and I'm truly happy that I got to witness London like this firsthand.
There were quite a couple of highlights for me, so I thought I'd do one post rounding all of those up. What were your Olympic highlights? Let me know below in the comments!
The Opening Ceremony
I think most of us were expecting a very cheesy opening ceremony, but Danny Boyle really delivered here. The Opening Ceremony was awesome to watch, even though I wonder how much it made sense for foreigners. I knew the 007 and the Queen bit was going to happen (and it was as great as I was hoping it would be), but I was surprised (and laughed out loud the moment I saw him) that they brought on Rowan Atkinson. I also loved the concept of the Olympic Flame Cauldron, having each country be represented as a part of the whole. Seeing that all come together was beautiful.

Opening Ceremony by Sum_of_Marc on Flickr
Women's 4×100 Freestyle Swimming Relay
This was the first event I watched where I was screaming at the TV, rooting for my favourites to win. It was such a close race with Australia winning gold and Netherlands winning silver (but only by overtaking USA and China in the last laps). You can watch it here on the BBC (from chapter 18 on).
Watching SPORT! with friends
It was a lot of fun hanging out with friends (well, it's always fun to hang out with friends) and to watch sport with them. I had friends over for dinner one of the days and we kept switching between three different sports, not being able to settle on just one. Then I also went with friends to Hyde Park Live and Victoria Live, which were a bit underwhelming the days that we went (although I got to go on a zipline, which was fun and terrifying at the same time). And of course going to see the Gymnastics and Volleyball with friends.
Playing Reserve-The-Ticket-Roulette and Winning
I thought ticket sniping for Barcamps and other geek events had prepared me well, but wow I was wrong. After seeing all those empty seats the first days, I of course was one of the thousands of people that attempted to get tickets. The ticketing website really sucks though; the flow of interactions and the bad copy makes users have the wrong expectations about the state of "their" tickets. It was frustrating as hell attempting to get tickets, but in the end I managed to get some! Gymnastics AND Volleyball!
Jessica Ennis's 800m, Mo Farah's 10000m
These were both amazing events to watch. Even though I'm not British, it made me proud of my adopted country. Seeing Ennis give it her all to end up first over the finish line, even though it wasn't actually needed to win her the gold… it was really amazing. And then to see Mo finish the 10000m. The slow motion capture of that is just brilliant.

Olympic Stadium by interbeat on Flickr
Holland Heineken House at Alexandra Palace
This was a lot of fun, watching the Olympics with a hall full of Dutchies. See my blog post to see more pics of that evening.
Going to the Gymnastics and seeing Zonderland win gold
I still can't quite believe that I got see a Dutch guy win gold! Zonderland's routine was so spectacular to watch, and it was awesome just being in the crowd for that. I won't rehash the entire day here again, I already wrote an entire blog post about my trip to the Gymnastics here.
Watching Volleyball
I still need to process all the photos I took that evening, but I think I got some great action shots. We got to see two Women's Quarterfinals: USA vs Dominican Republic and Italy vs Korea. The first match was a bit boring; USA won 3-0 from Dominican Republic. The second game the teams were much more evenly matched; it was pretty exciting to watch!
Friendly London
Everywhere I went in London the past two weeks everyone was just super friendly. The awesome volunteers at both Olympic venues I went to were super friendly and helpful. The security at both venues was painless, quick and again super friendly. And almost everywhere you went someone had a smile on their face. I want Friendly London all the time!
Schwarzenegger tweeting about Boris Bikes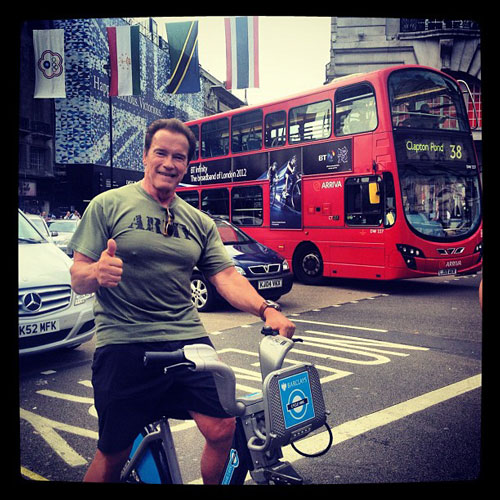 Feeling motivated to sport more
After watching all those sports on TV and in real life, I now really feel motivated to go out and sport more. I went running again yesterday for the first time in ages and it felt great. This time though instead of sticking to a schedule and looking at my watch every couple of seconds, I just ran as I wanted: balancing on small walls, jumping over steps, it was just so much more fun. I realized that what I really want to do is maybe some basic parkours; nothing too fancy, but I think it would be fun to learn the basics. Besides that I also want to see if with some friends we can hire a sportshall every (other) week and do a different sport each time. I like volleyball and basketball, but not enough to join a club for only that specific sport. Doing something different each week though? That could work.
So those were my Olympic highlights! What about your's? What made the Olympics special for you?