ParaNorman comes out in the US at the end of this week and I've been given a goodie bag to giveaway to one lucky reader! It's from the same studio that made Coraline and it looks like it could be a lot of fun:
Here's what's in the goodie bag:
$25 Visa Gift Card for a night at the movies
Adult T-Shirt
Keychain
Notebook
Slippers
Toothbrush
Backpack
To enter the contest, all you need to do is email contest@missgeeky.com with your name and address and put "ParaNorman Giveaway" in the title. The giveaway will run until August 21st at 17:00 and is only open to residents of the United States.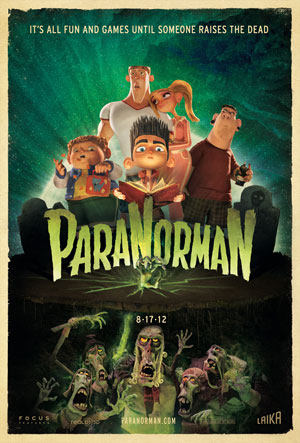 About the Film
The new 3D stop-motion comedy thriller from animation company LAIKA, reteaming the company with Focus Features after the groundbreaking Academy Award-nominated Coraline. ParaNorman is, following Coraline, the company's second stop-motion animated feature to be made in 3D.

In ParaNorman, a small town comes under siege by zombies. Who can it call? Only misunderstood local boy Norman (Kodi Smit-McPhee), who is able to speak with the dead. In addition to the zombies, he'll have to take on ghosts, witches and, worst, of all, grown-ups, to save his town from a centuries-old curse. But this young ghoul whisperer may find his paranormal activities pushed to their otherworldly limits.