This sound like fun! Alchemy, magic and gargoyles…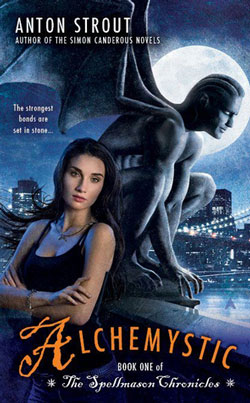 Here's the description from Amazon:
Alexandra Belarus is a struggling artist living in New York City, even though her family is rich in real estate, including a towering Gothic Gramercy Park building built by her great-great-grandfather. But the truth of her bloodline is revealed when she is attacked on the street and saved by an inhumanly powerful winged figure. A figure who knows the Belarus name…

Lexi's great-great-grandfather was a Spellmason – an artisan who could work magic on stone. But in his day, dark forces conspired against him and his, so he left a spell of protection on his family. Now that Lexi is in danger, the spell has awoken her ancestor's most trusted and fearsome creation: a gargoyle named Stanis. Lexi and Stanis are equally surprised to find themselves bound to each other. But as they learn to work together, they realize that only united can they save the city they both love…
Alchemystic by Anton Strout is £4.99 on Amazon.co.uk and $7.99 on Amazon.com.