Once in a blue moon an opportunity comes along that sounds so amazing and wonderful, you can't quite believe it. I've been blogging now for 6 years and I've been fortunate enough to be invited to various cool events. The BAFTAs though? Wow, that was something I never dreamed I'd be invited to. It's a night I'll never forget and I don't think anything can top that any time soon.
About a week before the big night I got an email from Evian's PR team asking whether I'd want an unforgettable red carpet experience at this year's BAFTAs. I initially interpreted that as standing in the press pit at the BAFTAs which I had never done before and thought would be pretty awesome to do. After responding though I soon realized that this was a bit more than that: I'd get to walk the red carpet and attend the ceremony, dinner and after party. Wait, what? Seriously? Me? YES!
I can't properly describe all the emotions I felt leading up to the BAFTAs. Shock. Disbelief. Happiness. Nervousness. Excitement. Panic. Part of me was freaking out about what to wear. None of the dresses I owned were any good, and I had no idea what to do with hair and makeup. And what was I supposed to with coat, bag and shoes? I wasn't prepared for a black tie event; I've never been to one before, what's the protocol? Another part of me was wondering whether this was all real. Or was this a joke, a prank, a very weird PR stunt? I kept imagining all the worst-case scenarios. It's in my nature to stress, so stress I did.
Of course in the end it all turned out okay. I managed to find an awesome dress (see my post here). I talked to a wonderful makeup artist at the Lancome stand at Debenhams who gave some awesome tips. And I managed to find a nice clutch that fit most of the stuff I took with me. I'll do another blog post with the makeup I wore, but the one thing I need to point out here is the nail polish: it's Skyfall from O.P.I. Awesome colour and super appropriate for that night.
I was all set for the BAFTAs. And I looked awesome.
On Sunday afternoon I made my way to Covent Garden, all nervous and excited. The main thing that had me worried was that I hadn't actually gotten the ticket. The idea was to meetup with the PR in a pub an hour before the ceremony started. I didn't quite want to believe I was actually going until I had the actual physical ticket in my hands.
It didn't help that my careful and anxious planning meant I arrived a full half an hour too early. Cue me with my floor length evening dress sitting in a pub filled with tourists and Irish rugby fans. That half an hour was the third longest wait of my life (first: waiting for the result of my thesis presentation and defence, second: waiting at the ER to hear about my Dad).
I shouldn't have worried. Eventually I was joined by Deola, the PR from We Are Social/Evian, and two other lovely bloggers, Alex from Alex Loves and Emily from Fashion Foie Gras. And I got my ticket!
The Red Carpet
Once the group was complete, it was time to head over to the Royal Opera House. It was pouring with rain outside and I was struggling terribly trying to balance all the stuff I was holding. Umbrella in one hand, clutch under my armpit, while desperately trying to hold my dress up from all the puddles and rain. Soon we were at the ticket gate, adding yet another object to the equation: umbrella, clutch, dress, ticket. I'm not the most coordinated or graceful person, and juggling those four things was a dance of deftness I hadn't yet mastered.
Before I knew it I was on the red carpet, still striving to not make a fool of myself by stumbling and falling. It was surreal. On the left were crowds of fans screaming for their favourite stars, on my right the press pit and the celebrities being interviewed. It was a whirlwind of umbrella dodging, object juggling and celebrity spotting (I was in arms reach of George Clooney, Ben Affleck and Bradley Cooper), all while being pressured to make our way down the red carpet. I wish I had time to relax, take some photos and properly appreciate where I was, but all too soon it was over. My glamorous red carpet experience was completed.
There was no time to mourn the end of my red carpet affair; it was time to adore the awesomeness that is the Royal Opera House. I've only been to their meeting rooms before, so this was the first time I was actually in the auditorium. It's gorgeous. My seat was in the highest part, the amphitheatre gallery, but I didn't care. I was at the BAFTAs. Down below, all scurrying in the stalls, were the stars I had been admiring the past weeks, each anxiously waiting to hear if they had won. And I was there with them.
The Ceremony
The lights dimmed, the curtains were drawn and the stage lit up. The ceremony was about to start. I won't go into any lengthy details about the ceremony here; by now I'm assuming you all have seen it and know who has won what, who said what and who wore who. I loved every bit of it. Stephen Fry was great as a host and he never failed to get the audience laughing (my favourite: "Life of Pee by Ang Lie", it doesn't work as well though written down).
I tried live tweeting the entire thing, but it's tricky! It also still sucks that it isn't broadcast live; in this day and age they should be able to. Maybe not on BBC One, but why not stream it completely online at least or on BBC Three? Part of me was hesitant about tweeting everything and I didn't want to spoil it for people and yet… I was there, how could I not tweet about it?
I still need to rewatch the actual broadcast ceremony. I'm quite curious to see how it's different from what I saw and which bits they edited and cut. There were only a couple of things that really stood out to me as things you don't experience when watching from home. The obvious one is the camera people on stage; with almost each award presenter and acceptance speech there'd be a camera person following and twirling around them. Besides that if you paid attention to the stalls, you could see seat fillers running around and kneeling in between shots. It's something you know that happens when you watch at home, but never get to see.
It was so much fun to experience the ceremony live and I hope you all enjoyed it as much as I did. My favourite acceptance speech of the night was Christoph Waltz's; he was sweet and his shout out to Quentin Tarantino was awesome ("You silver penned devil, you"). I'm still not a fan of Argo; I get what people like about it, but from all the movies nominated this year, it's the one I enjoyed the least.
I've previously written about the poster designs by Jonathan Burton (see my post here). Each of the five Best Film nominations got a gorgeous design to be used on the BAFTA programmes and ever since hearing I was going I've been curious to see which one I'd get. I was surprised to find that they weren't being handed out deliberately; instead, at each entrance of the seating galleries were stacks of the programmes just lying on the floor. The one near our door was the programme for Zero Dark Thirty, but on our way out I managed to grab an Argo one as well!
Grosvenor House
And then the ceremony was finished. We were all reminded that transport to Grosvenor House would be taken care of and if we could all make our way to the coaches outside. Looking at the timestamps of my tweets, I realized it took us about 30 minutes to only get out of the auditorium, out of the Royal Opera House and into a bus.
It took us at least another 30 minutes to get through central London to Grosvenor House. Add to that the bustle of getting inside, showing my ticket, queuing for the cloak room, manoeuvring between the maze of tables and people and figuring out where my table was, and it was about eleven o'clock by the time I finally was seated.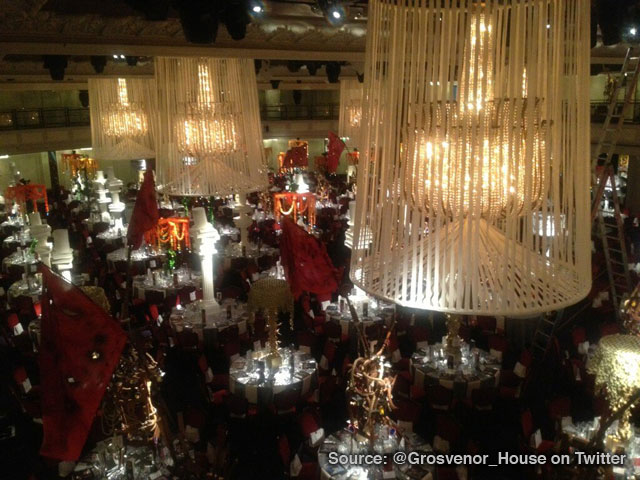 It's no wonder though. On the night I did a quick calculation: I saw a table "163" with each table seating 8, so there were at least 1300 people. Then someone pointed out some tables fitted 20… Once home I finally found some stats: the Royal Opera house seats 2256 people and there were 1920 guests dining at Grosvenor House. That's an amazing amount of people to move around and manage.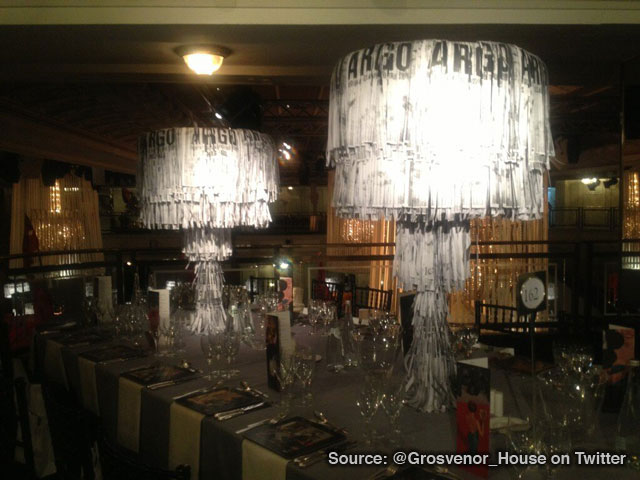 The Dinner
The dinner took place in the Great Room and it looked amazing. Every table was dressed with one of five centerpieces, each representing the five Best Film Nominees. And they each had placemats with scenes from the corresponding movies. It all was stunning and really gave the feeling I was dining in Movie Wonderland.
I was a bit hesitant of wandering around the tables in the hopes of bumping into celebrities. I had been struggling with my dress the entire night (it really was too long and people kept stepping on it; it's a wonder I didn't trip up) and I've never really like the idea of going up to stars when it's their special night. I still managed to see some of them from a distance, but maybe I should have gone up to them and told them how much I love their movies.
My table was one of the Zero Dark Thirty themed ones. I loved the details in the centerpiece. I'm guessing they basically grabbed a ton of toy tanks, jeeps, planes, helicopters and action figures, spray-painted them and glued them randomly to a lamp. It looked great though! I was also happy with the placemat I got: Jessica Chastain looking cool.
When dinner was finally served, I was starving. The food was delicious. For starters, we got Bradan Orach Smoked Salmon, pickled fennel, granny smith apple, baby watercress and crème fraiche (I forgot to take a photo of this). The main course was… interesting: roasted loin of Bolton Abbey lamb with shepherd's pie, pea puree and glazed carrots. Yep, shepherd's pie, although a shepherd's pie unlike any I've ever seen. Finally for dessert: salted caramel cremeux with Hotel Chocolat 70% chocolate mousse.
Again I realize just how much coordination is needed to arrange such a dinner. 1920 guests. Woah. It's astonishing just how much work and money went into creating this entire experience.
After the dinner, we all made our way to the Disaronno After party, where delicious cocktails were served alongside chocolate-dipped fruit. By then I had stopped taking photos and tweeting, and just attempted to relax and enjoy the party atmosphere. The Noisettes gave a great performance; this was the second time I saw them live and lead singer Shingai Shoniwa has such a bouncy and fun stage presence.
It was almost nearing three when I was all partied out. I took a cab home, unpacked all my goodies (the programmes, the Zero Dark Thirty placemat and perfume and mascara from Lancome) and crashed on the couch with my laptop. Of course I was too hyper to sleep; I had just been to the BAFTAs!
The next day I was delighted to find a thank you gift from Evian: a limited edition Diane von Furstenberg Evian bottle.
Thanks so much to Evian for giving me this opportunity. Attending the BAFTAs was truly an amazing experience and as I said at the start of this blog post it's an evening I'll never forget.
Next year again?